Replacing your air purifier filters regularly keeps your indoor air cleaner and healthier, and keeps you breathing easier. Air purifiers can contain a wide variety of filters from HEPA filters and pre-filters to carbon and post filters. We stock air purifier replacement filters for all major brands of air purifiers including Austin Air, IQAir, Blueair, Whirlpool, Honeywell, AirPura, Amaircare, and others.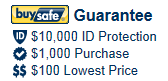 More Information On Air Purifier Replacement Filters
How Important Is Changing Your Air Purifier Filters?
It's more important than you think to change your air purifier filters. For allergy and asthma sufferers your filters are an important tool for reducing your home's allergens and keeping it a little more allergy-free. Not just that – it can also save you money. A clogged filter is forced to work harder, less efficient, consuming more energy and raising your energy bills. Staying on top of your filter replacement means you get the best results in both air quality and energy efficiency.
When changing your Air Purifier Filter, there are a few factors that affect how often you should be replacing your filter. While the thickness of your filter does play a role, so do the factors in your home.
Do you have pets? A smoker in the house? Open doors or windows? Leave your heat or AC running? These all can affect the performance of your filter. If some or all of these factors are affecting your filter performance it is vital that you follow the manufacturers instructions and replace your air purifier filters as recommended.