Our allergy pillow covers provide complete protection from dust mites, mold, pet dander, and other allergens. By sealing allergens away, you can get a more rested and reaction-free sleep each and every night. Choose dust mite pillow encasements in the following BedCare™ fabrics styles:
All-Cotton, Organic, Classic, Elegance, and Economy.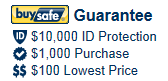 More Information On Pillow Covers
Pillow Covers? Pillow Case? Which Is It?
A pillow cover, sometimes referred to as a pillow encasing, zippered encasing, dust mite cover or allergy pillow cover, looks like a basic white pillowcase with a zipper. Though it may look like a normal pillowcase, it is specifically designed to block out dust mites and other allergens. The major differences between a pillowcase and pillow cover are that allergy pillow covers zip up tight to completely encase your pillow and are constructed in a way that prevents allergens from passing through them.
---
Why do you need a pillow cover?
If you wake up in the morning with a stuffy nose, itchy eyes, sore throat, wheezing or other allergy/asthma symptoms, you are probably allergic to dust mites. Dust mites are microscopic creatures that thrive in bedding and feast on human skin flakes. They LOVE your bedding. Warm, dark and right below a nightly food source, dust mites can be found in everyone's mattress and pillows. Unfortunately, at least 10% of Americans are allergic to dust mite waste particles and regularly experience morning congestion and restless nights. Even more striking is that nearly 75% off all people who suffer from ANY allergies will ALSO be allergic to dust mites. Dust mite pillow encasements can alleviate your allergy symptoms by creating a physical barrier between you and the allergens. These hypoallergenic covers physically block allergens from settling into your bedding allowing you to rest soundly and wake up breathing clearly.
---
How do Pillow Covers work?
Specially blended fabrics are tightly woven to keep dust mites and dust mite allergens from penetrating. Like all textiles, our fabrics have tiny pores that allow air to pass through the material making it breathable and cool. Unlike other textiles, BedCare™ All-Cotton allergy pillow covers have an average pore size of 2.6 microns so that even the smallest allergens cannot pass through. (Dust mite allergen averages around 10 microns, but cat and dog dander may be as small as 3 microns.) With such a tiny average pore size, allergens are blocked from entering your bedding, causing allergic or asthmatic reactions and disrupting your sleep.
---
What does "membrane-free" mean?
BedCare™ Classic has an ultra-thin, allergen-proof ComforTech polyurethane membrane barrier to block allergens. The membrane barrier is also waterproof, and so we normally recommend these encasings for small children. Membrane-free encasings are generally softer, cooler to sleep on, and more breathable; they rely on tight-weaving technology to create pore sizes so small that allergens cannot pass through the fabric. Our membrane free encasings include BedCare™ Elegance, All-Cotton, and Organic.
---
How do you use these encasings?
Pillow covers are extremely easy to put on. Simply slip your pillow into it, zip it up, and then put your normal decorative pillow cases over your dust mite pillow covers. As an added precaution, some people cover the zipper of the pillow with white or blue zipper tape to prevent allergens from potentially coming in through the zipper.
---
How do you care for hypoallergenic pillow covers?
You care for and clean your allergy pillow cases just as you would your regular bedding. Just machine wash on warm or hot, and gently tumble dry. Do not use bleach. Pillow covers can be washed every two weeks. Mattress covers only need to be washed two to three times per year. However, some may wash their allergy bedding more frequently depending on specific conditions.