Each AirPura air purifier uses a combination of filters to remove allergens and indoor air pollution while improving indoor air quality and leaving you breathing easier. Replacing your AirPura filters is a quick and easy process, and by replacing individual filters when needed you get the most out of your machine and reduce your overall cost of operation. Below are the replacement filters for the AirPura air purifiers we currently offer.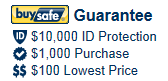 More Information On AirPura Air Purifier Filters
About Airpura Replacement Filters
Airpura's revolutionary technology is proven to eliminate a wide range of chemicals, pollutants and odors such as pet dander, pollen, tobacco smoke, mold spores, dust, chemicals, and disease-causing microorganisms. The Airpura HEPA efficiency filter traps 99.97% of airborne particles, even the smallest of particles as small as 0.3 microns, which are considered to be the most harmful. The superior performance of the carbon filter traps a wide spectrum of airborne chemicals, noxious gases and odors. Absorption with activated carbon is the industry's safest way to trap noxious gases and odors.
Of course staying on top of your filter changes is essential to keeping your Airpura air purifier running at it's top-rated performance. We offer a wide selection of replacement air filters including Airpura replacement pre-filters, replacement HEPA filters, carbon filters, as well as the Airpura replacement UV lamp and the replacement TitanClean reflector.
The reputable standards of the Airpura filtration technology ensures that you are breathing the freshest air possible