Quiet, efficient, portable and reliable, Dri-Eaz dehumidifiers provides the best dehumidification solutions for water damage restoration, flood clean up and environmental control. Choose from traditional refrigerants, LGRs, and air movers that are built to provide maximum performance and legendary Dri-Eaz durability. Powerful, durable and built for everything from cleaning up hurricane damage and flooding to water damage from a backed up drain, Dri-Eaz offers a variety of commercial dehumidifiers and fans to keep your home or project high and dry. Browse our commercial portable dehumidifiers below.
Call or Chat Now with our Product Experts for Special Offers and Volume Pricing!
Filter Results
Category

Price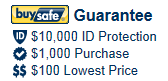 More Information On Dri-Eaz Dehumidifiers

Dri-Eaz provides the worlds best solutions for restoration, remediation and portable environmental control. As the long-time industry leader, Dri-Eaz gives customers the tools they need to succeed through education, technical support, and innovative equipment design.
The Dri-Eaz company conducts world-class research, provide leading-edge education and pioneer products that help you restore and maintain healthier indoor environments. When the worst strikes, Dri-Eaz commercial dehumidifiers are relied upon by homeowners and professionals alike to restore homes and buildings to their original condition.
As a part of the Legend Brands company, Dri-Eaz is one facet of multi-pronged approach to disaster restoration. Based in the U.S., DriEaz dehumidifiers, air movers, and air scrubbers are all made right here in the USA. All feature durable, rotomolded housing that comes with a lifetime warranty.
Discontinued Dri-Eaz Dehumidifiers