Whether you are looking for a lightweight, powerful upright or a compact, HEPA canister, Soniclean has a vacuum to meet your cleaning needs without having to spend a lot. Using their patented technology, the Soniclean uprights use incredibly powerful suction and sonic vibrations to dislodge stubborn dirt then whisk it away, sealing it in a HEPA filterbag. For a compact solution to smooth floor cleaning, the Soniclean canisters provide premium filtration and the cleaning tools specific for the task. Browse our selection of Soniclean filter bags and cleaners below.
Call or Chat Now with our Product Experts for Special Offers and Volume Pricing!
Filter Results
Category

Price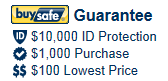 More Information On Soniclean Vacuum Cleaners
How to Select Your Soniclean Vacuum Cleaner
Your first decision should be based upon the type of flooring in your home. For homes with mostly smooth floors, one of the uprights is ideal. Using ultrasonic vibrations, the Soniclean uprights dislodge ground in and stuck on dirt and soil allowing the powerful suction to pull it from the carpet it and trap it in a HEPA style filterbag. For homes with mostly carpet, the VT Plus or Galaxy will be your best fit. The motor's suction lifts dirt, debris and pet hair, trapping it in a HEPA style filterbag before exhausting clean air through a HEPA filter. A sealed system ensure no leakage, allowing these canisters to not only clean your floors and surfaces but keep allergens and microparticles out of the air you breath.

If you have selected the upright, which price better fits your budget? The Galaxy is more expensive but provides additional peace of mind with a full five year warranty. Though the VT comes with only a three year warranty, it is more budget friendly.

With the Soniclean canisters you have two choices. For Bare Floor Pro's name says it all. The smooth floor tool makes it ideal for smooth flooring of all types, and the price fits most budgets. For a little more versatility, consider the Galaxy 1150. This canister includes two floor tools, the smooth floor attachment as well as an air-driven turbo brush, perfect for low pile carpet, area rugs and even certain types of medium height carpet. Regardless of the model you choose, Soniclean offers economical choices to suit your specific cleaning needs.
---
Soniclean System
So much of the dirt and dust in our homes get ground into your carpet, going deeper every time someone walks through your house. Sonic technology loosens deep dirt and dust so that its powerful suction can capture unseen dirt and seal it inside its patented seal-tech HEPA filtration Soniclean vacuum bags so all you have left to do is lift a lever, close the cap, and toss it!

By using a small sonic vibrations, the Sonic bar assembly vibrates over 12,000 times a minute. In much the same way a sonic toothbrush works on cleaning teeth, this intense vibration of the Soniclean upright dislodges dirt and debris better than a conventional brushroll. Dirt and allergens then travel through the vacuum and into the filterbag.