Carpets are known to cause countless problems for allergy sufferers; carpet fibers provide a safe haven for dust mites, pet dander, pollen, mold spores, and other allergens. In fact, in severe cases, some doctors recommend getting rid of all carpets. It's usually not necessary to go that far, but if you have allergies, it is imperative that you vacuum your home frequently with a quality vacuum cleaner that has a HEPA filter capable of capturing allergens.
The History of Vacuum Cleaners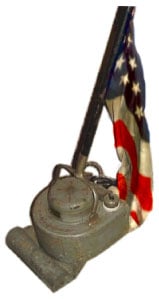 Before vacuum cleaners existed, people had to take their carpets outside and beat the dirt out of them. Some people cleaned their carpets only once a year during the spring. (The dust mites must've loved that!)
The first vacuum cleaner, the "Whirlwind," was invented in Chicago in 1868 by Ives W. McGaffey. The Whirlwind was difficult to use because the operator had to manually turn a crank while pushing it across the floor.
Allergy and asthma sufferer Melville Reuben Bissell invented the first successful mechanical "carpet sweeper" in 1876 in Grand Rapids, Michigan, and the Bissell carpet sweeper is still popular today, especially in restaurants and other locations where operators do not want to disturb patrons with the noise of an electric vacuum cleaner. The first patent for an electric carpet sweeper was granted to Corinne Dufour of Savannah, GA in 1890.
In 1901, Hubert Cecil Booth invented a large vacuum cleaner known as the Puffing Billy. The Puffing Billy was first powered by an oil engine and later by an electric motor, but Booth never achieved much success with his large machine, which required a horse-drawn carriage for transport.
Walter Griffiths developed an improved manual vacuum cleaner in Birmingham, England in 1905. The operator pumped a bellows-like contraption to suck up dirt through a flexible pipe; this was the first device that resembled a modern vacuum cleaner.
Between 1903 and 1913, New Jersey inventor David T. Kennedy was granted nine patents for machines similar to the Puffing Billy and established the Suction Cleaner Company and the American vacuum cleaner industry.
Allergy: The Mother of Invention

In 1906, motivated by the allergy and asthma attacks he experienced after using his sweeper, janitor James Murray Spangler created an electric vacuum using an electric fan motor, a soap box, a broom handle, and a pillowcase. He also added a rotating brush to loosen dirt and debris. Spangler patented his rotating-brush design in 1908 and eventually sold it to W.H. Hoover of Hoover Harness and Leather Goods Factory. The Hoover company is still a leading manufacturer of vacuum cleaners; as a matter of fact, in Great Britain, "hoover" is often used interchangeably with the word "vacuum" - even as a verb, as in "I hoovered the living room this morning."
How Vacuum Cleaners Work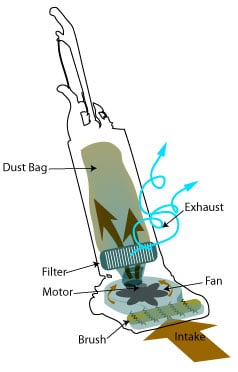 In traditional vacuum cleaners, a fan sucks in air, reducing the air pressure inside the cleaning tube, and atmospheric pressure then pushes the air up the tube and into the bag (it's like sipping a beverage through a straw). The air carries dirt with it, and while the air freely moves through the dust bag's small pores to the vacuum's exhaust, the dirt gets trapped inside the bag.
Allergies & HEPA Filtration

HEPA filters were developed during World War II to remove radioactive particles from the air. HEPA stands for "High Efficiency Particulate Air," and by definition, a HEPA filter must capture at least 99.97% of all particles at 0.3 microns. Household allergens average between one and ten microns. We recommend that allergy sufferers use only vacuums with HEPA filtration; otherwise, the allergens that get sucked into the vacuum will pass through the bag's pores with the outgoing air and get blown back into the environment through the vacuum's exhaust. A HEPA filter, however, is guaranteed to trap virtually all household allergens. In fact, if you use a laser particle counter to test the HEPA filtration system on a Miele vacuum cleaner, the particle count at the exhaust goes all the way down to zero!
Trends in American Vacuum Cleaning

Vacuum cleaners were luxury items until after World War II, then they started to become common in middle-class homes. Now nearly every home in the U.S. has at least one vacuum cleaner. Vacuum cleaners are much more common in Western countries, as wall-to-wall carpeting is rare in many other parts of the world.
While upright vacuum cleaners are by far the most popular style in the U.S., canister vacuum cleaners have become more popular in the last few years as non-carpeted floors have become more popular. Upright vacuums are perfect for homes with wall-to-wall carpeting in every room, while canister vacuums work well on all floor types. Generally, canister vacuum cleaners also offer more suction and greater airflow. Universal upright vacuum cleaners (also know as "stick" vacuums) are also becoming more popular, and there will always be a place for handheld vacuums.
As vacuum cleaners evolve to address consumer concerns, designers have recently focused on improving factors such as filtration, weight, maneuverability, ease of use, and noise.
| | |
| --- | --- |
| | Miele vacuums are, simply put, the best available to allergy sufferers. They're not only quiet and easy-to-use, but they also provide superior HEPA filtration. The HEPA filter and sealed system of the Miele traps 99.99% of particles down to 0.3 microns. Every aspect of a Miele vacuum cleaner is well thought-out and ideal for allergy sufferers; the bag is even coated with a layer of impact foil to prevent sharp objects from ripping it. Moreover, the bag automatically seals itself when you extract it, so you don't have to worry about exposing yourself to allergens. Miele offers stick vacuums and upright vacuums as well as canister vacuums. Miele vacuum cleaners are built to last for 20 years. If you want a top-notch vacuum cleaner that's going to last for many years, choose a Miele vacuum cleaner. |
| | Electrolux vacuum cleaners are also quiet and easy-to-use, and they offer HEPA filtration with a slightly lower price tag. The Electrolux Harmony vacuum features soft wheels and a low-noise floor nozzle, making it possible to vacuum without disturbing sleeping family members or roommates - and it's priced very reasonably. |
| | SEBO vacuum cleaners were designed with allergy sufferers in mind. Uprights like the SEBO Automatic X5 vacuum cleaner drop flat to the floor for parallel cleaning without the need to move furniture. If a damaging item is accidentally sucked into the machine, the smart SEBO motor shuts the unit off before it burns out. Indicator lights let you know about problems like a non-functioning brush roll or blocked hose. SEBO vacuum cleaners are also available as canister vacuum cleaners. |
| | When you need a handheld vacuum cleaner for specialized cleaning, you don't have to sacrifice HEPA filtration. The Dyson Handheld vacuum cleaner and the DirtTamer Hand Vacuum offer HEPA filtration on a smaller scale. |
Recent Arrival of the Cyclones

In 1985, James Dyson invented the Dyson vacuum cleaner. He got the idea from industrial cyclonic separators. Dyson vacuums cleaners employ a contained vortex to pick up dust. The centrifugal force of the vortex separates the larger particles from the smaller ones, and then the particles move to different filters depending on their size. The first Dyson vacuum cleaners sold for about $1,800 in Japan. Now, thanks to its market success, you can buy a Dyson vacuum cleaner for less than a quarter of its original price.
What is Household Dust, Anyway?

Dead human skin cells make up about 80% of household dust. Dust also contains hair, lint, animal dander, dust mites, pollen, mold spores, insect appendages in various states of decay, soil from outdoors, and often toxic chemicals. Until the carpet is vacuumed with a HEPA filtered vacuum, these particles will remain in the carpet and enter the indoor air when they're stirred up.
Vacuum Cleaning Tips for Allergy Sufferers

Vacuum more slowly to increase efficiency. Slow, deliberate movements capture more allergens than quick, random movements. We recommend that you vacuum at least twice per week. To ensure that your vacuum cleaner is working properly, replace filters and bags on time. If you have a bag less vacuum cleaner, empty the bin into a trash receptacle outdoors to avoid contaminating the indoor air with allergens. Don't forget to vacuum all those hard-to-reach spots with vacuum cleaner attachments or a handheld vacuum. If you're allergic to dust mites, consider using Allersearch X-Mite carpet powder or Ecology Works Anti-Allergen Solution to denature allergens in carpet, or Ecology Works DustMiteX to kill dust mites in carpet and upholstery.
For more information, visit our HEPA vacuum cleaner buying guide or browse some vacuum cleaner FAQs.