What is Hypodown from the Ogallala? Hypodown is premium goose down infused with a naturally hypoallergenic plant fiber that traps allergens. Cleaned numerous time, the hypodown fill in these goose down comforters and bedding products is guaranteed not to cause an allergic reaction for a full ten years. Each comforter provides you with options to customize and create the perfect comforter for you. Using only the finest ingredients, Ogallala has created allergy-free comforters that are the pinnacle of comfort and luxury. Browse our Ogallala hypodown pillows and goose down comforters and bedding!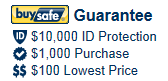 More Information On Ogallala Hypodown
What is Hypodown?
The short answer is that Hypodown is an 80% / 20% mix of fine Hungarian goose down and naturally hypoallergenic Syriaca clusters. The long answer is that the makers of Hypodown search for goose down that is the fluffiest and cleanest in the world. Then, they grow their own Syriaca plants, collect the finest pods, capture large Syriaca clusters, and transfer them to their patented Hypodown blender. It uses bursts of air to combine the Syriaca clusters and the goose down into a material so intimate it cannot be separated. An airy cloud-soft combination of two natural fibers to give you a tranquil, restful night's sleep.<
Hypodown is hypoallergenic
Goose down can cause allergic reactions for some people. However, it is not the down itself you are allergic to, but remaining particles of dust and dirt that are inside the down. Hypodown offers the cleanest down available, tested by allergy doctors in the United States, Hungary, and Germany. Each test concludes that people who are allergic to down can use Hypodown with no allergic reactions. Hypodown comforters and pillows are guaranteed to be reaction free for 60 days.
Innovative and natural Syriaca clusters
Syriaca clusters are what gives Hypodown it's unique properties. The hollow fibers inside the Syriaca clusters aid in moisture transfer, wicking moisture away from your body 30% faster than just down alone. And, Syriaca clusters are durable and warm. They also help to trap and stabilize the components in down which can cause allergic reactions.
Syriaca clusters come from the plant commonly known as milkweed, naturally cultivated on Nebraska farms. You may have seen their fluffy, silky clusters like parachutes through the autumn sky. Light-weight, buoyant, and moisture resistant, Syriaca clusters were also used in life jackets in World War II.
Custom products
All of Ogallala's Hypodown pillows and comforters are custom made. In most cases, you can select the size, fill power and the type of support you need. For pillows, this is key in selecting a pillow that is most comfortable and beneficial to you. For comforters, being able to customize is helpful in selecting a comforter that will be warm or light enough for your local climate and weather conditions. Regardless of what you choose or how you choose it, Ogallala bedding is a durable custom product, unmatched in quality and comfort.