For maximum protection from dust mites, you need hypoallergenic blankets that can withstand frequent washing and drying. Soft as cashmere, the BedCare™ Polartec fleece blanket is known for its durability and warmth. The always popular Vellux blanket is not only durable, but also inexpensive, versatile, and warm. If you are sensitive to chemical residues and dyes of modern textiles you will love our BedCare™ cotton blankets. No matter what you need, we have the perfect allergy blanket for you. Browse our allergy-free blankets below.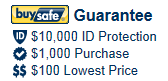 More Information On Blankets
Why should I buy an Allergy Armor blanket?
We designed the Allergy Armor fleece blanket specifically for allergy sufferers. It has a lifetime warranty and will stand up to frequent washing, which is necessary for eliminating dust mites. This American-made microfiber fleece is very soft and warm, yet lightweight and breathable. Plus, the Allergy Armor blanket is six inches longer than standard blankets for better coverage.
Why should I buy a Vellux blanket?
An all-time favorite among hotel managers and allergy sufferers alike is the soft yet durable Vellux blanket. Vellux blankets will not lose their velvety softness no matter how many times you wash them. In fact, the more you wash them, the softer they get. The Vellux blanket is made with millions of polyester surface fibers and two layers of insulating polyurethane. Lightweight, comfortable, and warm, it is the perfect year-round blanket.
Why should I buy a certified organic blanket?
Standard farming techniques often rely on toxic chemicals that end up in the final product and pollute the environment, but USDA certified organic cotton is grown without the use of synthetic fertilizers, pesticides, or herbicides. Sustainably produced and processed without the use of harsh chemicals and dyes, the organic cotton is grown and woven right here in the U.S., and then we cut, sew, and pack your blanket, right here in Atlanta, GA. Breathe easier knowing that your blanket is all natural and non-toxic. Protect yourself and your environment by choosing certified organic cotton blankets. Not only do you support sustainable agriculture with this blanket but you also support American farmers and manufacturers.
What makes Mulberry West special?
Mulberry West are silk filled blankets that provide not only warmth but soft, luxurious, and naturally repels dust mites and bed bugs. With satin trim and boxed construction, these hypoallergenic blankets are a great addition to any bedding set.
Regardless of the allergy blanket you choose, you choose, each offers a warm and soft feel, while working to reduce allergen exposure and keeping you comfortable all year round.