Down comforters are soft and snuggly, but they are havens for dust mites. Hypoallergenic down comforters replicate the dreamy softness and warmth of goose down without the allergens. Our hypoallergenic down or Hypo-down comforters from Ogallala are made from a goose down blend that is tested by allergy doctors and guaranteed to be allergy-free for 10 years. If you are attached to your current comforter, then we offer BedCare™ comforters and hypoallergenic duvet covers that will protect your comforter from dust mites and other allergens. Browse our anti-allergy comforters below!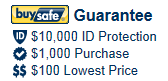 More Information On Comforters
Why should I buy a PrimaLoft synthetic down comforter?
PrimaLoft offers the only patented alternative to down comforters. The PrimaLoft down comforter is made from soft, ultra-fine fibers that give it a down-like appearance and feel. Lightweight and warm, these hypoallergenic synthetic down comforters are comfortable all year round. The luxurious PrimaLoft synthetic down comforter features exclusive anti-bacterial protection.
Why should I buy a Mulberry West silk filled comforter?
Mulberry West allergy-free comforters are filled with natural silk. Silk is naturally resistant to dust mites and other allergens. One of the best features of these silk comforters is how well they adjust to your body temperature. This is a thin comforter, but the 300 thread count outer shell and the silk combine to make a very warm blanket.
Why should I buy an Ogallala comforter?
Ogallala hypoallergenic down comforters are made from a blend that is 80% pure, clean Hungarian goose down and 20% Syriaca clusters. Syriaca clusters, also known as milkweed, are naturally hypoallergenic and trap any allergens from the goose down. Furthermore, the goose down is washed and rinsed several times before being combined with the Syriaca clusters. Hypodown is warmer, more durable, and more breathable than down alone or synthetic down. Ogallala comforters are tested by allergy doctors and guaranteed to be allergy free.
Why should I buy a wool crib comforter?
Pure-Rest wool crib comforters are made and processed with a soft clean wool that does not have the natural odor of some organic products. These are great for cribs and toddler beds with crib dimensions. For a lighter feel, choose the merino wool style.
Why should I buy a comforter or duvet cover?
If you want to get rid of your allergy symptoms but keep your favorite comforter, then an Allergy Armor comforter cover is just what you are looking for. The comforter cover zips up to entirely encase your comforter to form a protective barrier against dust mites and other allergens. Choose from a variety of our Allergy Armor fabrics to create your own anti-allergy comforters.