Miele HEPA filters are independently certified to meet or exceed H13 HEPA filtration standards of trapping 99.95% of all particles as small as 0.1 microns.

A rubber seal ensures no air leakage while a TimeStrip indicator lets you know exactly when it's time to replace. In addition to HEPA filters, Miele offers a variety of filters to meet your specific filtration needs whether it is light particle, HEPA or pet odor filtration and removal.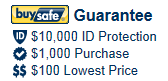 More Information On Miele Vacuum Filters
Vacuum Filters - What Sets Miele Apart
A lot of vacuum cleaners come equipped with HEPA filters, but few, if any, spend the time and resources to ensure that those filters meet the exacting standards of a Miele. Not only are the filters made from quality materials, they are independently certified to meet or exceed HEPA filtration standards. Most of the HEPA filters meet or exceed H13 HEPA standards. H13 is a European standard that is slightly different than the American version of HEPA. U.S. HEPA is 99.97% filtration of particles 0.3 microns or larger. H13 HEPA in the EU is 99.95% filtration of particles as small as 0.1 microns. H13 filtration is what all models are switching to and what all new vacuums have in them when you receive them. This type of filtration combines with a sealed system, pre-motor filter, post filter and 9-ply filter bag to create an air cleaning system - in a vacuum!

Even the least amount of filtration any Miele offers, the AirClean Filter, you still get filtration that surpasses most comparable models by trapping 95% of all particles 0.3 microns and larger and 99.95% of particles 0.5 microns and larger. This filtration is standard with both AirClean and Active AirClean filters.

All Miele filters should be replaced annually (after approximately 50 hours of use) or sooner if needed. And while many Miele uprights and canisters lack a filter change indicator, new Miele HEPA filters feature a TimeStrip Indicator. You crush/push the small green button on the filter, and when the red bar reaches the end of the strip, it's time to change the filter. It is best to replace your Miele HEPA AirClean or Active AirClean filter at least once per year or when indicated.