SEBO vacuum cleaners are not only powerful professional cleaning machines, they also have a three-step filtration process that makes them ideal for people with allergies, asthma, COPD, or other respiratory problems. SEBO vacuums feature S-Class HEPA filtration systems with three-layer dust bags and hospital-grade filters. The result is 99.9% of all particles 0.3 microns or larger effectively removed from the air you breathe! Odor-eliminating filters are also available for select models.
To completely service your SEBO vacuum, opt for the matching Service Box, and in between filter changes, Dust Bag Boxes, only, are also available.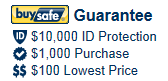 More Information On SEBO Dust Bags
SEBO Vacuum Service Boxes Explained
SEBO vacuum bags might seem a little confusing at times. There are filter bag boxes, service boxes, and HEPA service boxes, but once you get past the names, they are actually quite easy to understand.

As the most basic type of box, filter bag boxes supply you with only filter bags (dust bags). There are no filters included, and these are changed in any SEBO vacuum as needed. The second type of box is a service box. Each service box contains the necessary annual filters that need to be changed for your specific SEBO vacuum. In addition to these filters, the service boxes also contain dust bags (filter bags). So essentially, a service box should provide you with all of the filters and vacuum bags to get you through a year's worth of cleaning service. If you have pets or if you are cleaning more heavily soiled areas, you may need to purchase a filter bag box in between service box purchases.

The last type is the SEBO HEPA service box. While the standard service box comes with an S-Class microfilter, motor filter and 3-ply dust bags, the HEPA box replaces that microfilter with a HEPA filter and replaces the 3-ply bags with 4-ply bags.

The difference between an S-class microfilter and HEPA filter is 0.07%, in terms of filtration rate for particles 0.3 microns or larger. S-Class filters trap 99.9% of all particles 0.3 microns and larger, while HEPA filters trap 99.97% of all particles 0.3 microns and larger. For many the difference in filtration is negligible, but for those who have severe allergies or conditions aggravated by ultrafine particles, the enhanced filtration of the HEPA filter is an added benefit.