Coyuchi organic cotton bedding is made without the use of synthetic fertilizers, pesticides, or herbicides. Decrease your exposure to toxic chemicals and protect the environment with Coyuchi organic cotton bedding. Choose from the classic 230-thread-count percale sheets or the silky 250-thread-count sateen sheets. Please note that while organic cotton bedding contains no toxic chemicals, it does not offer protection from dust mites. To protect yourself from dust mites and other allergens, please visit the BedCare allergy bedding section of our website. Browse our selection of Coyuchi sheets below.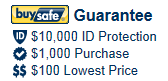 There are no products matching the selection.
More Information On Coyuchi Bedding
Chemical Free, 100% Organic
Free of dioxin, formaldehyde, and other toxic chemicals, certified organic cotton bedding is made with care so that you can sleep in peace. Certified organic cotton is grown without the use of synthetic fertilizers, pesticides, herbicides, or genetic engineering.

Elegant and luxurious, these organic linen sets by Coyuchi have a high thread count and a durable weave that will last for years. All Coyuchi organic cotton bedding is minimally processed without the use of chemicals. Since sleep is a time for your body to rest and eliminate toxins, it is important to make sure you're breathing fresh air.

Besides protecting you from synthetic chemicals, organic farming methods also protect the air, water, and soil from chemical pollution. Through sustainable agricultural methods, organic farmers respect and nurture the soil rather than ruining it for future generations.

Promote your own health and the health of the environment. Stop sleeping with your face buried in toxic chemicals. Sleep on certified organic cotton bedding to decrease your toxic chemical load and alleviate rashes, eczema, and allergies with Coyuchi sheets.