At affordable prices, Alen air purifiers deliver the performance you find in the most expensive air purifiers. Alen's HEPA-style filtration system traps and destroys indoor pollutants such as pollen, dust mite allergen, pet dander, and mold spores that inflame allergies and asthma. Best of all, Alen air cleaners are covered by a limited lifetime warranty! With a range of size options and filter options, Alen has an air purifier to meet all of your air purification needs. Find Alen air purifier filters and air cleaners below.
*Please note that the following air purifiers cannot be shipped to Canada: the Alen BreatheSmart, the Alen T500 Tower, and the Alen Paralda. They are not Canadian safety rated.
Call or Chat Now with our Product Experts for Special Offers and Volume Pricing!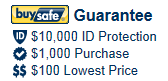 There are no products matching the selection.
More Information On Alen Air Purifiers
Indoor air quality is a growing concern for many families, particularly those who suffer from allergies and asthma. Unfortunately many air purifiers that clean the air in your home come with annoying drawbacks: howling fans, filters that you have to wash, high prices, and worst of all, air purifiers that don't adequately clean the air in your home.

Like other more expensive models, Alen Air Purifiers trap and contain pollen, dust mites, pet dander, mold and other particles that aggravate allergies and asthma. Alen HEPA filtration systems move the air quickly, removing these irritants from the air in your home. But unlike the most expensive HEPA air purifiers, Alen air purifiers operate quietly and continuously, without the noisy fans that push air through the dense filters found on other models.

Alen Air Purifiers also clean more air more quickly and effectively than the ionic air purifiers advertised on TV. With those models, the burden is on you to clean your filter at regular intervals to ensure effectiveness. But do you ever really get the filters clean? The makers of those models make filter maintenance sound easy, but Alen actually makes it easy with inexpensive replacement filters. The all-in-one filter arrives at your door. Just snap it in place and you're done.
---
Alen Air Purifier Models
The Alen BreatheSmart air purifier uses Alen's SmartSensor Technology to detect airborne allergens and pollutants, automatically adjusting airflow to protect you while saving energy and extending filter life. The BreatheSmart is both powerful and quiet, providing up to 1100 square feet of coverage with Alen's WhisperMax Technology, a specially designed fan and air chamber that maximizes clean air delivery while maintaining a peaceful environment.
As the newest addition to the Alen line of air purifiers, the Alen T500 Tower air purifier delivers style and performance, in a redesigned package. Smaller than the T300 model, the T500 offers the same great performance with HEPA-style filtration. The lightweight T500 also has a variety of filter options for specialized filtration of odors, chemicals or pathogens.
Imagine having the cleanest air possible and breathing easier without sacrificing style and space. The Alen Paralda is a new category of air purifier, sleek and stylish with a great performance record. This HEPA-like air purifier distinguishes itself in not only the filtration it delivers but how little energy it consumes and what it is NOT made of (toxic or harmful chemicals, glues and other compounds).

---
Discontinued Models
Alen T300 Tower Air Purifier
Alen A375 UV Air Purifier
Alen A350 Air Purifier
Alen T100 Air Purifier