3M has long been been a leader in furnace filters, masks and personal filtration, and now they have adapted that expertise to design air purifiers that are not only efficient but also inexpensive. 3M air purifiers range from being large enough to tackle an office setting to models that are not much larger than a roll of paper towels. The 3M Ultra Clean air purifiers are larger and have filter replacement indicators while the 3M Ultra Quiet air purifiers are compact and operate near silently. All 3M air cleaners feature electrostatic Filtrete filters that clean the air better than current HEPA standards. No matter the room, we have an inexpensive 3M air purifier to meet your needs.
Call or Chat Now with our Product Experts for Special Offers and Volume Pricing!
Filter Results
Category

Price

Air Purifier Housing

Filter Type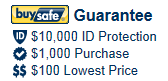 More Information On 3M Air Purifiers

3M changed the home air filtration industry when they introduced Filtrete furnace filters - and now you can benefit from that same Filtrete technology with 3M air cleaners! Not only are Filtrete air purifiers effective, but they're also small, convenient, and stylish. The 3M Filtrete Ultra Clean Air Purifier is better than HEPA at capturing airborne particles; it has a higher airflow and the electrostatic nature of the filters lends itself to higher dust and pollen capture rates. With two sizes available, it's now easy to choose an inexpensive air purifier for light to moderate allergies while reducing dust and other particles in nearly any room in your home.
---
3M Company History
Founded by five businessmen in Two Harbors, MN in 1902, 3M started out as a mining company. They produced the world's first waterproof sandpaper in the 1920s. In 1925, a young lab assistant named Richard G. Drew invented masking tape; in the following years, 3M developed the Scotch tape brand. The 1950s brought Scotchgard fabric protector, videotape, and Scotch-Brite cleaning pads, along with several other new 3M products.
In the 1960s and 1970s, 3M expanded to produce specialized products for industries such as photography, pharmaceuticals, radiology, medical equipment, and dental equipment. The famous Post-It notes appeared in 1980. In the 1990s, 3M product sales hit the $15 billion mark. 3M is one of 30 companies that make up the Dow Jones Industrial Average. Sales hit $20 billion in 2004, and 3M now produces an astonishing array of products, from respirators, air purifiers, and air filters to optical films for LCD televisions and immune response modifier pharmaceuticals.

Discontinued 3M Air Purifiers
3M Filtrete Ultra Quiet Air Purifier