Austin Air air purifiers feature true, medical-grade HEPA air filters and activated carbon that provides outstanding air filtration in an easy-to-use package. Austin Air offers a variety of air purifiers in two sizes and multiple colors that feature several levels of specialized filtration for the removal of pollen, dust, pet dander, gases, odors, smoke, and chemicals. Dependable, durable, and low maintenance, each Austin air purifier provides first class air filtration and a 5 year warranty. Each Austin HEPA air purifier and filter is manufactured and assembled right here in the U.S. Browse our Austin Air replacement filters and Austin Air purifiers for sale below.
Call or Chat Now with our Product Experts for Special Offers and Volume Pricing!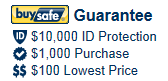 More Information On Austin Air Purifiers
---
Which Austin Air Air Purifier Is Right For You?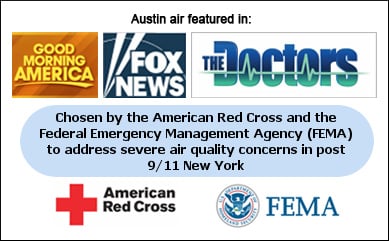 It's easy to choose the best Austin Air for your specific air cleaning needs. First, choose a size. For larger rooms up to 750 sq. ft., you'll want a full-size model to provide the minimum cleaning rate of four air exchanges per hour. With the exception of the Austin Air Baby's Breath, each Austin Air air purifier is available in this size. For smaller rooms up to 275 sq. ft., choose an Austin Air Junior model. The Austin Air HealthMate, HealthMate Plus, Allergy Machine, and Baby's Breath air purifiers are all available in this compact, lightweight Jr. size.
Next, you'll want to select what type of filtration will best address your indoor air quality concerns. The basic, and most popular, Austin Air HealthMate air purifier features a deep bed of activated carbon, blended with zeolite, as well as 60 sq. ft. of medical grade HEPA filter media to capture odors, smoke and common particle allergens like pollen, pet dander, mold spores, and dust.
The Austin Air HealthMate Plus air purifier extends that with an activated carbon/zeolite blend impregnated with potassium iodide. The potassium iodide in the Austin Air filter is an oxidizing agent that actually breaks down some chemical vapors and VOC's like ammonia ethylene and formaldehyde. The Austin Air Baby's Breath also feature this same filtration but in two colors that fit the decor of most nurseries.
In the Austin Air Allergy Machine the HEPA filter media is combined with a High Efficiency Gas Absorption (HEGA) cloth for advanced removal of vapors and gasses that can trigger allergies and asthma.
For the best all around filtration, try the Austin Air Bedroom Machine air purifier which features 5-stage filtration including HEPA, HEGA, activated carbon and two pre-filters.
And last, select a color. Each Austin Air is available in five colors, White, Black, Sandstone, Silver, and Midnight Blue. The Austin Air Baby's Breath is only available in Baby Blue and Pink.
---
Common Features in Each Austin Air Purifier
Each Austin air purifier has some key features that have made it one of the most dependable and easy to use air purifiers available today. First, each Austin has true HEPA filter media. The HEPA filter in each meets or exceeds the HEPA standard of trapping 99.97% particles 0.3 microns or larger. It's not "HEPA-like" or 99% effective. It's true HEPA filtration.
Every Austin HEPA air purifier also features a sealed system and steel construction. The sealed system means no air leakage or mixing of dirty and clean air as the machine works. Gaskets around each end of the filter ensure air travels in a direct path, through the filter and out the clean air exit. The steel body has a baked on powder coat finish that resists rusting lends itself to years of use.
Controls are simple with Austin Air air purifiers. Simply unpack, plug it in and turn the knob to one of three fan settings. It's that easy!
Lastly, each Austin can be converted to any other type of Austin by simply changing the filter. So if you had an Austin Air HealthMate but things changed in your life to where you needed more chemical or VOC filtration, you can simply order the HealthMate Plus filter. Each works interchangeably with all other Austin Air filters.
---
Austin Air Purifier - America's Air Purifier
Since 9/11, we now know that the dust from Ground Zero was toxic and has caused respiratory problems for many rescue workers and citizens of New York City. Fortunately, Austin Air air cleaners were there to help provide clean air to many victims. One victim said,
"I live in Manhattan about 4 miles from the World Trade Center site and returned home that evening to find myself coughing and unable to breathe in my apartment. I went into my bedroom, closed the door, and turned my Austin Air cleaner on high. For the rest of the night, I was able to sleep without any further discomfort. Thanks Austin Air, you really helped me get through the aftermath of 9/11."

Austin Air was also the government's choice for air purification. These HEPA air purifiers have been used by the Department of Homeland Security, FEMA, the U.S. Army Corps of Engineers, the Red Cross, and the NYC victims of 9/11. The military carbon cloth and activated carbon adsorbs hundreds of harmful gases and vapors, as well as dangerous particles like mold spores, concrete dust, and even anthrax spores. Read more about Austin Airs role as the government's air purifier.
---
*Please note that any Austin air purifier purchased after 1995 can be upgraded with a different HEPA filter. Austin replacement HEPA filters are interchangeable. Austin Air units manufactured before 1995 can only use the Allergy Machine HEGA filters.