Primaloft bedding is an alternative down bedding made from a patented material originally developed by the United States Army. Extremely soft and lightweight but warm, Primaloft down alternative bedding gives you the feel of down without the feathers and allergens. Less expensive than down, Primaloft comforters and pillows provide the luxurious feel down at an indulgent price affordable enough for everyone.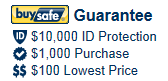 There are no products matching the selection.
More Information On PrimaLoft
Everyone loves the look and feel of down, but some of us have allergies and simply cannot have it. Well now there is an alternative - Primaloft, the luxury down alternative. Get the great look and feel of down bedding without the high cost or allergens.
Our down alternative Primaloft pillows, down-free comforters, and mattress pads have the warmth and feel of down cradled in a soft outer shell. What does that mean for you? It means ultra-comfortable bedding without the sneezing, wheezing or coughing that down can create for those with allergies. Unlike cheap down bedding, which often has feathers that poke and stick you as you sleep, Primaloft offers the best features of down without any of the problems. This is why Primaloft bedding has become the luxury bedding of choice for so many allergy sufferers and non-allergy sufferers alike.
Downlite is a 100 year-old family business based in the United States that supplies luxury down and alternative down bedding for the finest department stores, hotels and resorts in the country. Downlite is unique because they don't just make down bedding for stores, they also supply hypoallergenic fillings to other manufacturers including jacket makers, furniture companies, and even other down bedding companies.
Downlite processes and cleanses all types of fillings including: White Goose Down, White Goose Feathers, White Duck Down plus dozens of unique specialty fillings including Eiderdown. The filling materials come from across the globe including Hungarian Goose Down, Siberian Goose Down & Canadian Goose Down.
In addition to down fillings for bedding, Downlite has made a name for itself amongst people dealing with allergies or asthma by developing and featuring several unique down alternatives including Primaloft, the luxury down alternative, plus other unique allergy-friendly fibers. Unlike traditional down bedding, Primaloft is machine-washable and durable to provide years of allergy-free, comforting warmth.