Easy to use, compact and inexpensive are some of the best ways to describe Crane humidifiers. From the fun and effective Adorable Animals models to the cool mist Blue Drop and Germ Defense, there are a variety of ultrasonic Crane humidifiers to choose from. Each provides cool mist relief of asthma and eczema symptoms as well children struggling with a cold, by restoring a healthy humidity level back to the air in your home.
Call or Chat Now with our Product Experts for Special Offers and Volume Pricing!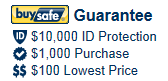 More Information On Crane Humidifiers
Crane USA has been producing fun, stylish, and effective home appliances since they were founded in 2005. With a focus on offering products that deliver performance while providing avenues to express your own personal home style, Crane's stylish humidifiers give you the ability to effectively control and maintain a healthy indoor environment, year round.

Choose from one of four Crane humidifiers including, Freddy the Frog, Daphnie the Duck, Blue Drop and Germ Defense. As child humidifiers, the Crane Duck and Frog are fun little humidifiers that work best in a child's bedroom or playroom. Both deliver soothing, cool mist to help moisturize and relieve the symptoms of asthma, eczema, and colds. The Blue Drop is a stylish humidifier that is small enough to fit just about anywhere but delivers big humidifying performance while the Germ Defense is a dual mist unit with a variety of digital controls and features not found in the other Crane humidifier models. No matter which model you select, all safely and effectively humidify the air in your home, at a price that nearly anyone can afford.