Whirlpool air purifiers offer excellent performance with true HEPA filtration and quiet operation. Affordably priced and consumer rated, the Whirlpool Whispure air purifiers are a great choice for allergy or asthma sufferers who need an allergen and particle filtration in their office or home. Breathe easier with cleaner indoor air thanks to one of the most trusted names in home appliances. Browse Whirlpool air filters and purifiers below!
Call or Chat Now with our Product Experts for Special Offers and Volume Pricing!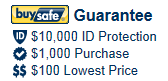 More Information On Whirlpool Whispure Air Purifiers
In the quest for a home with comprehensively clean air, putting air purifiers in every room can get expensive.
The Whirlpool Whispure is the perfect way to get cleaner air where you need it most. Although its capacity for removing odors is limited due to the small amount of charcoal in the pre-filter, the Whirlpool Whispure is one of the true-HEPA air purifiers capturing 99.97% of airborne dust, pollen, mold, dander and other allergens. Ease of use, simple filter replacements, affordability, and filtration are all reasons why the Whispure line of air purifiers ranks consistently at or near the top of yearly consumer product rankings.
With the ability to clean up to 500 square feet, the Whirlpool Whispure is ideal for a small room such as a bedroom or an office. It is designed to fit unobtrusively in a small room, even against a wall, because the front of the unit serves as the air intake while the top of the unit provides the outflow of clean air.
It is especially important for air purifiers used in small rooms to operate quietly, and the Whispure lives up to its name. In a normal home environment without tobacco smoke or a lot of pets, the HEPA filter in the Whirlpool Whispure will typically last a year. Filter change lights indicate when it is time to change the charcoal pre-filter and the HEPA filter, an unusual benefit for one of the lower cost air purifiers on the market. The charcoal pre-filter should be changed about every three months.
---
Whirlpool Whispure Delivers Certified Clean Air

With exceptional AHAM Certified Clean Air Delivery Rates (CADR) - the Whirlpool Whispure air cleaners get the allergens out. The higher the Clean Air Delivery Rate, the more clean air your air purifier delivers.
The rating is based on the cubic feet of clean air that an air purifier delivers in one minute. And with independent AHAM Certified CADRs of 315 and 205, you can see these Whirlpool air cleaners deliver a lot of clean air very quickly.
---
Whirlpool - Energy Star Rated
It doesn't make sense to improve your indoor environment if it comes at the expense of the outdoor environment. That's one reason why Whirlpool Air Purifiers are Energy Star qualified. That label is your assurance that you are using less energy and helping the environment. After all, energy savings can add up to financial savings, particularly for an air purifier that may run up to 8 - 24 hours a day, every day.