SEBO vacuum cleaners are not only powerful professional cleaning machines, but they also have a three-step filtration process that makes them ideal for people with allergies and asthma. SEBO vacuums feature S-class HEPA filtration systems with three-layer dust bags and hospital-grade filters, resulting in 99.9% effectiveness at allergen elimination for particles down to 0.3 microns. Odor-eliminating filters are also available for select models.

From time to time, it may be necessary to change out a filter even though you have plenty of vacuum bags, and when that happens, browse our listing to find the SEBO replacement vacuum filter that meets your specific needs.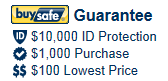 More Information On SEBO Vacuum Filters
SEBO Vacuum Filters - What, Where, and How Many?
SEBO vacuum filters can be a little tricky to understand, but they're really quite simple once you become familiar with them. Each SEBO vacuum has either two or three filters in each system
SEBO S-Class Filters
There is a microfilter (or HEPA) that does the bulk of the filtration, and then some combination of a pre or post motor filter. A premotor filter is to keep larger particles out of the motor compartment. While a post motor filter is there to trap and carbon dust that may be produced by the motor brushes. Regardless of the configuration, each SEBO will have at least two of these filters.

Each SEBO vacuum cleaner comes standard with the S-Class microfilter. This type of electrostatic filter filters 99.9% of all particles 0.3 or larger. This filter needs to be replaced annually or with about 50 hours of use.
SEBO HEPA Filters & HEPA Boxes Explained
SEBO also offers a HEPA filter which provides 99.97% filtration of particles 0.3 microns or larger. Please note, that IF you upgrade from an S-Class Filter to the a more traditional HEPA filter, you will have to purchase a SEBO HEPA Box. Why can't you just buy a SEBO HEPA filter? The reason is this. The S-Class filters use electrostatic properties to boost their filtration rate. Traditional HEPA does not. Instead, HEPA filters require a much less porous material to effectively capture 99.97% of particles. This means it also cuts down on airflow and can clog quicker than an S-Class filter. Each HEPA Service Box also contains a slightly different style of dust bag. Instead of the usual 3-ply dust bag, the HEPA Box will contain 4-ply dust bags. Because the HEPA filter material is constructed of such fine fibers, it can potentially clog easier than the electrostatic S-Class filter. But each filter provides 50 hour of use, correct? Yes, and the reason that the HEPA filter matches the longevity of the S-Class filter is because of the Ultra dust bags that come in each HEPA box. With the upgraded, 4-ply Ultra bags more particles are trapped by the bag, which lessens the load on the HEPA filter and allows for 50 hours of use before needing to replace it. Simply put, if you want slightly better filtration, opt for a HEPA box. It will contain all the components you need to have full HEPA filtration.
SEBO Motor Filters
The pre or post motor filters are typically a coarser material that doesn't offer the same filtration as S-Class or HEPA. These are electrostatically charged, so they will trap very fine particles and help protect your vacuum and ensure cleaner emissions and better indoor air quality. Like the primary filters, motor or exhaust filters should be replaced annually.

As a final note, SEBO vacuum cleaner filters are NOT washable. Replace these filters regularly to minimize strain on your motor, lengthen the life of your SEBO vacuum and improve the indoor air quality in your home.