Best Ultrasonic Humidifiers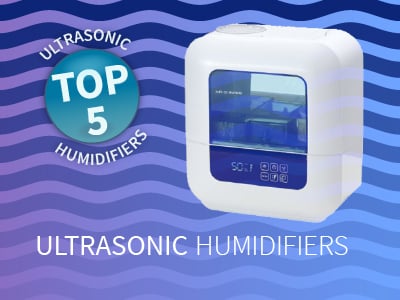 Quiet, hygienic and highly effective, the ultrasonic humidifier is the most popular type of home humidifier available today. Though they range in price, features and durability, the top ultrasonic humidifiers exhibit a good blend of each of these attributes.
For many, the best ultrasonic humidifiers offer not only maximum humidity output but are also extremely quiet and exceptionally safe to use. Each employs a small diaphragm that creates ultrasonic vibrations to break apart liquid water molecules and turn it into a cool, soothing mist that is dispersed throughout the room. No boiling, no waiting, just cool soothing mist, in seconds.
Compare and select from our Top Five Ultrasonic Humidifiers for sale to find the right solution for the dry indoor air in your home.