Your Guide To Control Moisture & Humidity

While certain events are unavoidable (storms, excessive rainfall, etc.), there is much you can do on a regular basis to properly maintain and control excess moisture and humidity levels. While we often do not think of it in these terms, water flows throughout your home, so it is always a good idea to pay attention to certain areas of the your home while looking for possible signs of trouble.
Anywhere you have a sink, inspect under the sink for any leaks or possible discoloration caused by water.
In places where there are water lines (refrigerator's ice maker, sinks, bathtub, toilet, ensure the water connections are secure and not leaking.
In areas like the shower or bathtub, inspect caulking to ensure a tight seal that prevents water from leaking in, around or under the walls and flooring.
Additionally, if the caulk around these areas has blacks spots, that's mold. Replace the caulk immediately, and look for ways to better ventilate the space.
A central air conditioner has a condensate line that needs to be properly ported into existing drain lines.
Check hot water tanks for rust or leaks.
Lastly, look for any possible leaks. Leaks, no matter what causes them, never fix themselves. You can check for possible hidden leaks by turning off all water using appliances. After an hour, check your water meter then examine it again to see if it has changed. With all appliances off, a change in this reading could indicate a water leak.

Humidity levels in your home can be actively monitored via a hygrometer/humidity gauge. To detect elevated levels of moisture or humidity in your home, we offer a few models that range from the Mold Alert, which is larger hygrometer that has a built-in alarm, to a Mini Hygrometer that is basic and compact. A traditional best seller has been the Acu-Rite Hygrometer since it can display indoor and outdoor temperatures as well as indoor relative humidity. The newest and most comprehensive model we offer, the AcuRite Wireless Hygrometer has a larger display and the most features of those available. Regardless of which model you select, each offers accurate humidity readings for any part of your home. No matter which you choose, all of them can help you monitor and control moisture & humidity in your home.
Controlling Moisture Year Round - Use a Dehumidifier

For some areas of the home, excess moisture may be unavoidable. Whether it's a home design that does not allow for adequate air circulation or ventilation or just areas where water is in constant use, excess humidity is often unavoidable in certain homes. So aside from ensuring the area around your home is adequately drained and all regular maintenance is performed, a dehumidifier is one of the easiest ways to keep humidity levels in an individual room, basement and crawlspace in check. The type of dehumidifier you should consider depends upon several factors.
Coverage Required
Cubic Footage is the best measurement (L x W x H of a room), but square footage will also give you a good starting point.
You would prefer to error in favor of a unit that is just a little larger than what you need rather than a little too small. You can start to calculate this by knowing the dehumidifier's CFM (cubic feet per minute - of air moved through the machine) and its water removal capacity, ppd (pints per day).
Drainage
Does the dehumidifier have a reservoir tank that will have to be manually emptied? For more severe humidity problems, this can be a hassle to empty multiple times per day.
Alternatively, will you port the unit for a direct drain approach? This can eliminate the need to manually empty the tank, but can be overkill for a room with a mild to moderate seasonal humidity problem.

If using direct drain, does the unit come standard with a condensate pump?
Price
Additional features, water removal capacity and brand name can make a big difference in price.
This can vary dramatically, but it is always important to remember, you get what you pay for.
Additional Features
Internal Humidistat, Built-in Condensate Pump, Auto Restart, Auto Defrost (de-icer), type of controls, and portability are common features that customers may require.
Top Three Dehumidifiers
Home Dehumidifiers

The Danby 70 Pint Dehumidifier is by far one of the most popular models on the market. What consumers like most about it is that for the price, it offers useful features such as a direct drain option, auto restart (after power outage), an auto de-icer, and excellent performance, all at a reasonable price point. The newest models even have an integrated condensate pump built right in. This brand has traditionally fared extremely well in a variety of consumer review magazines and is year to year, a best selling model.
Basement
or
Crawlspace Dehumidifiers

The Dri-Eaz PHD200 is very popular for individuals who need maximum moisture removal in a versatile and efficient package. Of the three units listed here, this model will remove more water per day than the rest. The size, durability, and versatility make this model a great basement, crawlspace or attic dehumidifier. Digital controls, an integrated condensate pump, and its compact size make this an ideal unit for most residences.
Restoration Dehumidifiers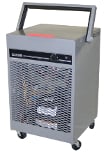 With all steel construction and an integrated centrifugal pump the Ebac Kompact is an ideal unit for restoration sites, residential and commercial uses. Its compact size, rugged construction, and water removal capacity, coupled with its ability to pump water, both vertically and horizontally, make this unit a best fit for cleanup and the continued removal of of moisture. Though it lacks an hours run meter it is a very economical restoration model.
Drier Home Means a Healthier Home

There are a variety of dehumidifiers for home, basement, crawlspace, industrial and commercial uses, and selecting the right one can help control moisture & humidity in and around your home, reduce allergens and insects while eliminating the possibility of mold growth. Remember, below 50% and you're fine, higher than 50% relative humidity, and you're more likely to have problems. Most dehumidifiers work in a similar fashion but matching the right dehumidifier for your specific situation is the key to successfully keeping your home dry.
Though avoiding a storm or flood will largely depend on where you choose to live, moisture problems in your home can be prevented before they start with some of the measures outlined above. With regular maintenance and these simple preventative measures you can help keep your home safe, dry, and free from a myriad of health concerns.
Browse our
Top Five Basement Dehumidifiers
Top Five Crawlspace Dehumidifiers
Top Five Room Dehumidifiers
or use one of our helpful resources below.
✔ All About Mold
✔ Home Humidity and Allergies
✔ Health Risks of Excess Moisture
✔ Water Damage Restoration
✔ Effects of Humidity of the Body
✔ Humidity Glossary
✔ Five Reasons to Avoid Excess Moisture in Your Home