Dehumidification is an important component of keeping humidity in your home at levels that help keep allergy triggers under control. Humidity levels somewhere between 40 percent and 50 percent are ideal for allergy sufferers, because they keep dust mites from thriving and prevent mold from actively growing.
Summer humidity can be a big problem for those with allergies. The spike in dust mite allergen combined with mold and mildew proliferation can cause allergy symptoms to come on in full force, even after the spring pollen season has subsided.
While portable humidifiers are an excellent option for small spaces or for the ease of being able to move them from place to place, whole house dehumidifiers, like our Aprilaire dehumidifiers, offer much more convenience, effectiveness, and water removal capacity than any portable unit ever could.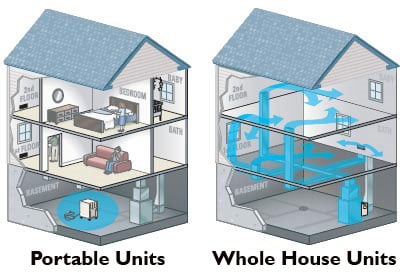 Here are three compelling reasons to invest in your family's health with an Aprilaire dehumidifier:
Dehumidifiers keep your house cool - for less money. Air conditioners work hard to keep your home at a comfortable temperature. As a byproduct, they remove some moisture from your home's indoor air. But using an Aprilaire whole house dehumidifier helps cool your home by removing moisture. Air that's less humid feels cooler, so by installing a home dehumidifier, you can actually crank that thermostat up and not even feel a difference! You'll save money on air conditioning and help your allergies at the same time.
No-hassle dehumidification. With whole house dehumidification, you'll never need to empty reservoirs or condensate buckets. The units can be installed directly into your heating and cooling system, so you'll never have to see or hear your dehumidifier either. All users have to do is replace the unit's filter once a year. Controls are intuitive and provide the flexibility to use a separate, remote control panel. You can often drain the condensate water from the Aprilaire into your existing HVAC water drain line or a nearby floor drain. Aprilaire units are built to last with all-steel, "Made in the USA" construction.
Best price and free shipping. We are proud to offer you the best price online for each of our Aprilaire units, the Aprilaire 1850F Basement/Crawlspace Dehumidifier, the Aprilaire 1830 Whole House Humidifier, and the Aprilaire 1850 Whole House Dehumidifier. Free ground shipping means no hidden fees or add-on costs. Just heavy-duty, reliable, industrial strength performance at the best possible price.