Snoozer Upper Body Pillow
Item #: SZ0002

OUT OF STOCK
Snoozer Upper Body Pillow
Are you tired of struggling with multiple pillows during the night? The patented Snoozer Upper Body Pillow has a unique candy-cane shape which gives your body full mobility and support all night long. Ergonomically designed, it follows your natural motions and positions, helping to relieve discomfort from arthritis, injuries, pregnancy, or sore muscles. The Snoozer Upper Body Pillow provides the support of 2 pillows in 1. It's the ticket to a great night's sleep!
---
Features
Filled with premium hypoallergenic synthetic down
Includes removable full body pillow case made from soft 100% cotton
Measures 36" x 14" inches
Provides ideal support for women during pregnancy, and also works as an excellent nursing pillow
Helps relieve pain from arthritis and knee or back surgery
Unique contoured shape follows the natural motions and positions of your body all night long
---
Snoozer Upper Body Pillow - A Closer Look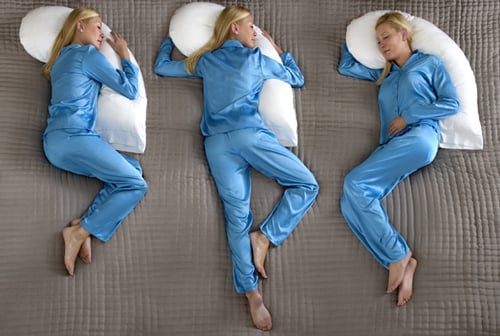 For most people, sleeping with only one pillow is just not enough. The result is what we like to call "pillow herding" -- arranging 2, 3, or more pillows around you to fall asleep comfortably. But as soon as you move, as you do during sleep, the pillows move as well. Fortunately, Snoozer Body Pillows are specifically designed to follow the natural motions and positions of the body as it moves through the night. This unique, contoured shape cradles your body in a number of basic sleeping positions.
---
A Snoozer Upper Body Pillow is ideal for you if...
You want a pillow which will cradle your body evenly in 4 basic sleep positions.
You would like to improve your sleep quality by promoting proper spinal alignment, healthier circulation, and muscular relaxation, and reducing neck and back strain.
You want a pillow that is 100% hypoallergenic, with a soft removable cotton pillowcase.
---
Thispillow is better than any arthritis medication

In addition to relieving shoulder pain from sleeping on my side, this pillow helped me sleep on my back. Sleeping on my back was recommended by my surgeon after eye surgery. This is the best buy I have made recently.
---


Snoozer Upper Body Pillow

I use multiple pillows at night to support different parts of my body as I sleep. Usually these pillows migrate to different places during my sleep, causing me to wake up from discomfort. The Snoozer Pillow Company calls this "pillow herding".

When I used the Snoozer Upper Body Pillow, I was able to get a great night's rest using just one pillow instead of three. I went to sleep in one position and woke up in the morning in the same place! I did not wake up once during the night. I had my husband try it; he's a stomach sleeper and was concerned that the pillow would interfere with his breathing. This was not the case at all; he was able to sleep more comfortably than ever.

What I like about the Snoozer Upper Body Pillow
I am now using one pillow instead of three.
Filled with hypoallergenic synthetic down.
Makes a great gift!
Like a traditional pillow in size and easy to store.
What I do not like about the Snoozer Upper Body Pillow
The pillow case only comes in white. I'd like custom pillow cases made to match my bedding.
In summary, I tried the Snoozer Full Body Pillow before I tried the Upper Body Pillow. At first, I wasn't sure if there would be a big difference in the two. What I like about the Snoozer Upper Body pillow is that even though it has a unique shape, it's not much bigger than a traditional pillow and can be easily tucked under the decorative pillows at the head of the bed.
---
Product Questions
No questions yet. Be the first to ask the question!
---