Dehumidifiers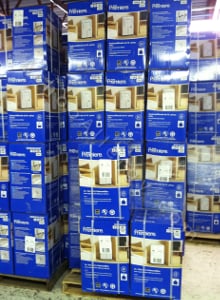 This spring has been a very wet one for many, particularly for those in the Midwest. Muddy roads, soggy yards, and wet basements are seemingly the norm this time of year. As your basement or home begins to feel more damp than it should, now is the time dry out with a Danby home dehumidifier!
For years the Danby Premiere line of dehumidifiers has been one of the best selling for home owners across the country. With consistently high rating by consumer testing agencies, superb moisture extraction and easy use, a Danby dehumidifier is a simple and effective way to reduce humidity in your home and help prevent the growth of mold, all while keeping insects at bay.
While there are smaller sizes, the most popular model is 70 pint. Rated to remove 70 pints of moisture per day, the
Danby DDR70A2GP 70 pint dehumidifier
will actually surpass that under more humid conditions. With a powerful fan, a wide coverage area and built-in humidistat, the 70 pint gives you the ability to dry some of the largest spaces in your home, reducing humidity and restoring comfort. A quick glance at the LCD display can provide you with a real-time relative humidity level in that space, and push button controls allow you to set your desired humidity level, select from two fan speeds and even set a timer.
If emptying the water bucket is something you want to avoid, you can use the supplied hose to port these dehumidifiers and allow condensate to flow from the Danby directly into a nearby floor drain. This means no more lugging around a bucket full of water and less downtime when no one is around to empty it. If you're using this in a home near the beach or in a rental cabin, you don't even have to worry about the power going out! When it's restored, the Danby will restart and resume dehumidifying at original settings.
Priced right and built to the last, Danby dehumidifiers offer a convenient and easy way to remove moisture without hassle or constant supervision.
To view
all Danby Dehumidifiers
, all of
your dehumidifier options
or the
top five basement dehumidifier
options.
Author:
K. Gilmore