Anyone living in a home that has a crawl space will know the problems that can stem from excess moisture and high humidity levels. These problems, coupled with the dark conditions in the crawl space, can lead to mildew and mold developing. This, in turn, can attract various insects and termites and can exacerbate or lead to allergic sensitivities or respiratory issues.
The conditions of your crawl space can ultimately adversely affect other areas of your home, which is why you need to tackle these problems quickly. One effective solution is to use a crawl space dehumidifier. This type of humidifier is designed to reduce humidity levels and the various problems that result from high humidity.
Some of the Factors to Consider when Choosing a Crawl Space Dehumidifier
Crawl spaces and basements are notorious for having high humidity levels, sometimes even in drier climates. Humidity can have disastrous effects on the living areas in your home. You need to make sure you invest in the best humidifier for basement areas and crawl spaces to tackle this problem effectively.
First, determine the size of your basement or crawl space. Next, decide how much you want to spend.
There are plenty of options available, and once you have these two data points determined, you can focus your efforts on the appropriate unit for your needs. The features can vary from one unit to another, so you should also think about any special features you may want.
Finally, make sure you choose a dehumidifier from a reputable manufacturer. This will ensure that you get a reliable, high-quality unit that can effectively deal with high humidity levels.
Our Top Crawl Space Dehumidifier Picks
If you are struggling to decide which crawl space dehumidifier to choose, we can make the process easier for you.
Below are our top recommendations from the lines of quality crawl space humidifiers available:
Santa Fe Compact70 Dehumidifiers
These Santa Fe Compact70 dehumidifiers are perfect for crawl spaces and basements. They work efficiently and effectively to reduce humidity levels, and they can be customized to suit your needs.
This is a high-quality unit with a solid steel construction. It is made by a leading manufacturer, Santa Fe, and has an energy efficient design to help keep running costs down.
Aprilaire 1850F Dehumidifier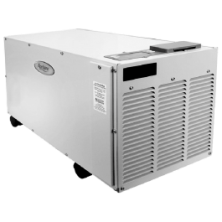 An excellent solution for crawl spaces and basements, the Aprilaire 1850F is a high-capacity dehumidifier with digital controls. It offers quiet operation, but powerful performance, so you can benefit from the best of both worlds.
In comparison to standard portable dehumidifiers, this model can remove three times the moisture. It is also lightweight and compact, as well as being energy efficient.
Dri-Eaz PHD200 Dehumidifier
With its compact design and solid build, this is a popular choice for crawl spaces and basements. The Dri-Eaz PHD200 model comes with a range of features and is ideal for small spaces, due to its compact size.
You will benefit from an easy-to-use control panel and a digital display. The unit is able to remove up to 75 pints of moisture per day, so it can make a huge difference to humidity levels.
Ebac CD85 Dehumidifier
This dehumidifier has a solid, rugged build, but it is compact enough for small spaces. It comes with a powerful fan that can cover a wide area, as well as an integrated condensate pump. This is the ideal product for areas where there is no drainage, such as your crawl space.
The unit's powerful performance will ensure that humidity levels are reduced quickly and efficiently. The Ebac CD85 is a versatile dehumidifier that is simple to use and very effective in terms of performance.
Santa Fe Impact105 Dehumidifier
If you are looking for maximum energy efficiency from your dehumidifier, the Santa Fe Impact105 might well be the perfect option. This unit is very powerful and efficient when it comes to moisture extraction, but it does this without using lots of power. You can therefore look forward to cost benefits and superior performance with this unit.
Improve Your Home Environment by Tackling Crawl Space Humidity
Using a dehumidifier provides an efficient and affordable way of improving your home environment. The humidity issues may stem from the crawl space or basement, but they can have an enormous impact on your living areas. By reducing humidity levels using one of these units, you can enjoy safer, healthier and more pleasant conditions in your home.
A high-quality dehumidifier will be able to tackle excess moisture and humidity without any problems. This will ensure you don't experience ongoing issues that could affect your property, your environment and your health.