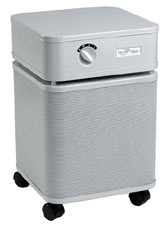 Visit Top Ten Air Purifiers to see the air purifiers that we most commonly recommend to allergy sufferers.
Our best-selling, best-all-around units include the Austin Air HM-400 air purifier, the Blueair 601 air purifier, the AllerAir 6000 series air purifier, and the IQAir HealthPro Plus.
For top-of-the-line home air filtration plus removal of chemical fumes and odors, we recommend the AllerAir AirMedic air purifier or the IQAir GC and GCX air purifiers.
For all you green environmentalists out there, we included the Blueair ECO10 air purifier on our list of top 10 air purifiers. Energy Star certified, it uses 95% less energy than other machines its size.
For all you technophiles and gadget gurus out there, we included the Blueair 250E air purifier. This whisper-quiet air purifier comes with an easy-to-use remove control and features a digital display that shows particle detection, air purifier speed, and timer operation.
For all you pet lovers, we present the Austin Air Pet Machine. Its HEPA filter captures pet dander while its specially blended carbon filter targets pet odors.
And, finally, we included the 3M Filtrete Ultra Slim air purifier for all you home decor & style aficionados. Designed by world-renowned Italian designer Paolo Pininfarina, this 3M air purifier is ultra modern, sleek, and stylish. It is only four inches thick and comes with a wall-mounting bracket for optimal placement in your home. While it's not a true HEPA air purifier, this machine captures 98% of airborne particles. And it even has a cool night-light!