What Will I Use My Steam Cleaner For?
Deciding which kind of steam cleaner to get involves considering what your cleaning needs are. If you are simply interested in replacing mopping with steam cleaning, all you need is a simple steam mop. However, if you want to be able to steam clean everything in your home, from countertops and bathroom tiles to curtains and mattresses, consider a more versatile unit.
How Important is Disinfecting?
Another thing to consider is how deep or thorough you want your disinfecting to be. If you are mostly interested in disinfecting bathroom and kitchen floors, or need to deep clean items that are particularly sensitive to moisture, a vapor steam cleaner is your best bet.
Vapor steam cleaners use a drier steam which is so hot that it evaporates extremely quickly. This technique is safe to use on items like upholstery and mattresses that should not be left wet due to the threat of mold.
The other benefit of vapor steam cleaners is their exceptional ability to sanitize. They not only force pathogens like E. Coli and Salmonella to the surface of the item being cleaned, but they actually kill them without the use of harmful chemicals. Keep in mind that regular steam cleaners deodorize and sanitize, but vapor steam cleaners are the most powerful.
Of these, LadyBug steam cleaners with TANCS are the cream of the crop. The TANCS system is the only EPA approved disinfecting mechanism that does not use chemicals. TANCS has been tested and certified and will offer you the closest thing to a sterile clean as possible in a residential setting.
Steam Cleaners Save Time, Money, and Space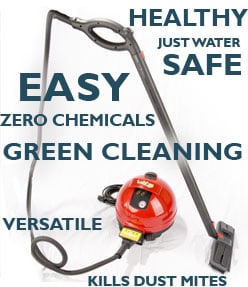 In the long-run, steam cleaners are not only beneficial to your health, but also to your budget, storage space, and peace of mind. Here's how:
Because steam cleaners work on so many surfaces and items in the home, you can use them to clean just about everything. That quality eliminates the need for specialized products or tools to clean various items. For instance, once you switch to using a steam mop to clean your floors, you won't need a mop, mop bucket, or floor cleaner. Just think how much closet space and money that alone will save you! Then consider all the harsh chemicals you keep for those toughest of cleaning projects, like scouring the grill or cleaning out the oven. You will gladly get rid of them (and never need to buy them again!) when you see how easily and safely steam gets rid of built-up dirt, grease, and grime.
By using one tool and the simplest and cleanest of "products" - water - steam cleaning can completely alter your cleaning routine, saving you money because you will no longer need special tools or products, and saving you space because you won't need to store them! By having one go-to tool that serves such a range of both frequent and occasional needs, you're also saved time and headaches. Who couldn't use that?
Once you see how clean you can get virtually everything in your home without the use of additional cleaning products and their attendant costs, hazards, and complications, a steam cleaner could become your go-to cleaning tool. By cleaning your home and getting rid of allergens safely and so effectively, a steam cleaner may very well revolutionize your entire cleaning routine.