Now several years in, the Miele Dynamic U1 upright vacuum cleaners are thriving. Sharing many of the features of the best selling Miele canister vacuum cleaners, the Miele U1 series of uprights not only out performs other uprights on carpet and smooth flooring, but also features the best filtration available. Miele U1 upright vacuums (formerly known as S7 uprights) are all HEPA capable, durable, and provide powerful suction. Though all share a great number of common features, each Miele Dynamic U1 upright is unique.
The chart below is a breakdown of many of the common features for you to compare Miele Dynamic U1 vacuums before you buy. For further information feel free to browse our site or contact one of our Miele vacuum experts who would be more than happy to answer any questions you may have.
Compare Miele Dynamic
U1 Vacuums

Miele AutoEco
S7580

Miele Cat/Dog
S7260

Miele Jazz
S7280

Miele Twist
S7210

Automatic Suction Adjustment
X
Electronic Suction Controls
X
Rotary Dial Suction Controls
X
X
X
Auto Height Adjustment
X
X
X
X
Separate Brush Roll On/Off (On Handle)
X
X
X
X
HEPA Filter
X
Optional
X
Optional
ActiveAir Clean Filter
Optional
X
Optional
Optional
AirClean Filter
Optional
Optional
Optional
X
HEPA Filter Change Indicator
X
Thermal Cut-Out Indicator
X
Dustbag Change Indicator
X
X
X
X
Swivel-Neck
X
X
X
X
Deluxe Ergonomic Handle
X
X
X
X
Upholstery, Extra Long Crevice and Dusting Brush
X
X
X
X
Brush Light
X
X
X
Stabilizing Hose Lock
X
X
X
X
Adjustable Wand
X
X
X
X
The Miele U1 Series provides an excellent balance of practical features and cutting edge innovation. When comparing the Miele U1 uprights to traditional uprights, several things stand out. First is the profile of these vacuum cleaners. When lying flat on the ground they are a mere six inches tall. This slim body design allows this upright to reach places that are usually reserved for the wand of a canister vacuum. Reaching tighter spaces and vacuuming under heavy furniture are two areas where this new design works wonders.
Traditional uprights have long had a major drawback. Too often they are hard to maneuver, particularly when attempting to turn. Some have employed a "ball" style design to allow for easier movement, but Miele went in another direction. Just above the base is a pivot point, and here the vertical section of the vacuum can swivel left and right. By comparison, the U1 upright Swivel Neck design aids in turning and makes it possible to vacuum more tightly around furniture. Making the Miele uprights less likely to tip, this design allows for a lower center of gravity for the S7 vacuum cleaners.
Each model also features automatic height adjustment which makes going from low pile to high pile carpet a seamless transition. When cleaning hard surfaces, Miele has designed the U1's with the ability to turn off the brush roll. In comparison, traditional vacuums have one motor that controls the entire unit, so when the vacuum is on, the brush roll is spinning. For those who have tried using an upright on smooth flooring you know that the only thing the brush roll does is toss dirt and debris around the room. To address this Miele has installed two separate motors. The powerful Vortex motor powers the unit and provides all the suction needed to tackle the toughest of jobs while a smaller, independent motor runs the brush roll. So, should you need to clean smooth surface simply turn the brush roll off and proceed to vacuum smooth flooring with straight suction.
Another major difference when you compare Miele Dynamic U1 vacuums to a traditional upright is the noise level. Miele uprights, like Miele canister vacuum cleaners, are extremely quiet. You won't have to worry about missing the phone call or not hearing someone at the door while using these vacuums. The first time you hear a Miele upright, you'll immediately notice an enormous difference.
Each of the Dynamic U1 upright models come standard with HEPA filtration, except the Miele Twist and Miele Cat & Dog. The H13 HEPA filter traps 99.95% of all particles, even those as small as 0.1 microns in size. Additionally, the new H13 filters have a TimeStrip Indicator built into the side of each filter. This simple but convenient feature lets you know exactly when the filter needs to be replaced, even if your specific models lacks the Filter Change Indicator option.
The Twist can be upgraded to a full HEPA filter at any time but comes standard with the AirClean filter. The Cat & Dog vacuum comes standard with an Active AirClean filter that traps 99.95% of all particles 0.5 microns and smaller. The difference between Active AirClean and AirClean? The former has a thick bed of active charcoal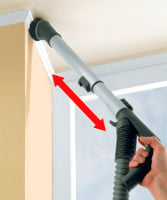 that helps to eliminate pet odors.
All Miele uprights feature the AirClean dust bag. This 9-ply dust bag is self sealing and traps more allergens than traditional vacuum bags. This, with the sealed system, makes the Miele upright the cleanest vacuum cleaners available. In addition to cleaner floors and cleaner air in your home, each of these vacuums offers exceptional cleaning range and reach. With an extra long cord and longer reach hose & wand, the Miele S7 upright vacuum cleaners can cover a full 55 feet before having to change outlets. Other conveniences include the improved design, three onboard accessory brushes/tools, 7 year warranty and durable ABS construction.
There are a few other notable differences when comparing Miele U1 upright vacuums. The Swing and AutoEco come with advanced digital controls in lieu of the rotary dial. Each of these models is also equipped with the filter change indicator.
---
After you have read through this Compare Miele Dynamic U1 Vacuums page, shop all
Miele vacuum cleaners
, read more about Miele vacuums in our
Miele Vacuum Cleaner Buying Guide
, or visit one on our other Miele vacuum compare pages below.