Facts About Animal Dander and Allergies
What are the causes of pet allergy symptoms?
Animal dander is the loose skin flakes that animals shed. This pet dander is the main cause of pet allergy symptoms. Pet allergies can be caused by the proteins in the hair, saliva, and urine of your beloved companion. When any of these pet allergens come in contact with your skin, they can cause an allergic reaction. Pet allergy symptoms can include:
Sneezing, congestion, runny nose
Itching, watery eyes
Coughing and wheezing
Eczema or rashes
There is no relationship between how long your pets hair is and how much dander its skin produces. However, your pet's fur can collect allergens like pollen, dust, and mold spores from the environment. Having these other allergens present in your home will magnify your pet allergy symptoms.
Are you experiencing pet allergy symptoms even though there is no pet in your home? Because pet dander is sticky, it can adhere to many surfaces. Dander can be present for up to six months after the pet has been removed from the home. In the case of cats, their dander can literally linger for years after the cat has left the house or apartment. Animal dander is likely to stick in carpets, upholstery, drapery, and other similar surfaces.
Facts about Pet Allergies

Fact #1 - Suffering from a pet allergy is quite common.
An estimated 10% to 15% of the entire population may be allergic to animals, and more than 70% of U.S. households have a dog or a cat. According to the Humane Society, an estimated 1/3 of people who are allergic to cats (about 2 million people) live with at least one cat in their household anyway.
Fact #2 - Pet allergies can be controlled.
The best solution is always to find a new home for your pet. Overexposure to animal dander can make the problem worse and can develop into asthma. If you or a member of your family has a severe pet allergy, finding a new home for your pet is your best solution. However, for milder pet allergies, there are many steps you can take to reduce your exposure to animal dander and other pet allergens. Because many people are not able or willing to give up their pets, there are a number of products available to reduce symptoms and exposure to pet dander.
Fact #3 - AchooAllergy.com can help.
We have a great selection of pet care products to help you control your allergy symptoms. Additionally, we offer FREE SHIPPING on orders over $150 in the continental United States. Please browse our helpful Pet Allergy Buying Guide. You will find great ways to clean your home, care for your pet, and create a more hospitable living environment. You can easily place your order online or by calling us at (800) 339-7123.
What steps can be taken to decrease exposure to animal dander?
Keep your pets outdoors. If this is impractical, create an allergy-free zone somewhere in the home--we recommend the bedroom. Prohibit the pet from entering this room.
Remove airborne animal dander by cleaning the air with a HEPA filtered air purifier.
Wash pets weekly with dander reducing shampoo. Bathing your pet on a weekly basis can reduce the level of allergens by as much as 84%.
Vacuum frequently using a Miele or another HEPA filtered vacuum cleaner that removes and permanently traps airborne allergens.
Install a high-efficiency filter on home climate control systems to prevent dander from circulating throughout the home. Put web vent filters over register vents. Change both filters seasonally.
Keep pets off furniture.
Wash hands thoroughly after playing with your pet.
Avoid furnishings such as cloth curtains, blinds, and carpeted floors. These materials tend to trap animal dander and other allergens.
Pet Allergy Buying Guide
Austin Air Purifiers
The Austin Air Healthmate is our top selling air purifier. We recommend checking out the Healthmate and the Austin Pet Machine. Both are sturdy, dependable air purifiers that are great at removing a variety of airborne allergens. A true medical HEPA filter will consistently and effectively remove animal dander from your environment, as well as pollen, dust, and other common irritants. These versatile air purifiers also remove odors, which aren't uncommon for pets, and both are most effective for areas up to 700 square feet.
---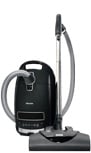 Miele Kona
A sealed system combined with powerful suction and HEPA filtration make the Miele Kona ideal for asthma and allergy sufferers alike. With an included powerbrush attachment, the C3 Kona pulls up embedded pet hair, dander and other allergens then stores them in a self-sealing, 9-ply filterbag. While Miele vacuum cleaners are known as durable, luxury appliances, cleaning ability and filtration are areas where the practical meets the stylish. All Miele HEPA vacuums, like the Kona, conform to the stringent European air filtration standard. It's this H13 HEPA filter that captures the microscopic allergens and irritants, 99.95% of them as small as 0.1 microns.
---
Eureka Power Paw Attachment
The Power Paw fits most vacuums on the market today. Its air driven turbobrush effectively removes pet hair from furniture and other cloth upholstered items with ease. Two rows of teeth helps loosen while the spinning brush lifts and removes dander containing hair.
---

Anti-Allergen Pet Shampoo
This Anti-Allergen Solution Pet Shampoo is proven to denature protein allergens on contact. It can be used on dogs, cats, and small animals to neutralize dust mite and pet dander allergens. In addition to the popular Ecology Works pet shampoo, Allersearch also has a pet allergy shampoo that works in the same way with slightly different ingredients. Both products deodorize and are completely non-toxic.
---

Allerpet
Bathing your pet frequently can remove dander and loose hair that collects dander or pollen, but too much bathing can leave your pet's skin dry, irritated, and flaky. Between baths, Allerpet is a simple way to denature allergens without drying your pet skin. With a formula for cats and dogs Allerpet is tough on allergens but safe for even kittens and puppies. With natural, completely non-toxic, plant based formulas, Allerpet reduces or eliminates dander, between baths.
---

Pet Dander Wipes
Pets can get into a lot of things, and any that spend time outdoors can pick up pollen, mold spores, and other allergens in their coat/fur. This is where Pet Wipes can help. Thick and oversized, each wipe moisturizes while it cleans and removes dander, pollen, and other allergens from your pets skin and hair. Gentle enough for use on kittens and puppies, Pet Wipes are a quick and easy way to remove allergens and clean your pet without the hassle of a full bath.
---

Allergy Zone Furnace Filters
The unique patented design of the AllergyZone Furnace Filter traps over 90% of allergens, removing them from the air circulating through your home. Disposable and highly efficient, Allergy Zone HVAC Filters are MERV 12 rated and help reduce dust, animal dander, and other allergens. These filters can help to keep your home cleaner and reduce your allergy symptoms.
---
Web Vent Filters
These vent filters go over the vent register systems in your home. They are made of an electrostatically charged material that traps dirt, dust, pet hair, and pollen-sized particles. Allergens are trapped and prevented from circulating throughout your home, and use of these vent filters won't significantly obstruct airflow. Each filter provides about three months of protection against stopping the circulation of pet dander and other allergens throughout your home.
---
Have more questions? Check out Pet Allergy FAQs, or visit our Pet Dander Allergy Solutions Guide for more information about pet allergies.