Steam cleaners are particularly helpful for allergy sufferers, because not only do they clean surfaces of dust and other allergens and debris, but they also disinfect and deodorize without the use of harsh chemicals that could trigger allergies, asthma, and multiple chemical sensitivity.
Though they may appear to be a large investment at first, eventually steam cleaners earn their keep by minimizing the need for additional cleaning tools and many, if not all, cleaning products. By using hot, vaporized water to loosen dirt and debris from flooring and other surfaces or materials, steam cleaners are not only a safe and healthy cleaning solution, but a powerfully effective one as well.
Here are the top five things to consider when purchasing a steam cleaner:
1. Steam Cleaners Are Healthy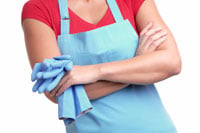 Everyone is susceptible to the harmful effects of many commercial cleaning products. Think about it: Would you use poisonous chemicals to clean surfaces that your children will be eating from? Would you expose yourself to noxious fumes to make your bathroom sparkle when there are alternatives?
As the dangers of traditional cleaning products become more widely known and accepted, many are turning to "green" cleaning products. However, these products are often expensive, while making your own cleaning solution can be too time consuming or intimidating. By using only heat and simple tap water to clean, steam cleaners are your answer.
Eliminating harsh chemicals is not the only reason for allergy sufferers to use steam cleaners. Steam cleaners are able to clean more deeply than surface cleaning. By using vapor to both loosen dirt and allergens and bring them to the surface, "thorough" cleaning reaches a whole new level. Also, on softer things like upholstery or mattresses, the penetrating power of steam cleaners lets you deep clean these items much more effectively than vacuuming alone.
2. What Kinds of Steam Cleaners Are There?

There are several different types of steam cleaners to choose from depending on your specific needs and the items you need to clean. Of course, each type provides natural, safe, and effective cleaning and disinfecting which helps keep you and your family healthy. The three basic categories of steam cleaners are vapor steam cleaners, steam mops, and handheld steam cleaners.

A steam mop like the Reliable Steam Mop is used to sanitize floors. Using a steam mop eliminates the need for a harsh cleaner to disinfect; instead, steam mops clean up stubborn dirt and sanitize through the pure and natural heat of the steam itself. Think of these units as mainly for floors.

Likewise, handheld steam cleaners eliminate the need for harsh cleaning chemicals. In this case when cleaning items like countertops, ovens, grout, tile, garments, and more. Attachments like brushes, squeegees, and nozzles make these kinds of jobs easier. Please note that many steam cleaners, such as the Soniclean Handheld Steam Cleaner, convert between both mops and handheld units. Think of these units as mainly for above-the-floor cleaning.

Vapor steam cleaners, such as Ladybug Steam Cleaners and Reliable Steam Cleaners, use steam with extremely high temperatures and less water. This type of steam is referred to as "dry" steam. Though not really "dry" the lower percentage of water and higher heat levels lead to the super fast evaporation of the steam. Using such high heat steam not only makes vapor steam cleaners ideal tools for items like upholstery, mattresses, and pillows (where you don't want any lingering moisture), but it also kills microorganisms and viruses on contact. These units are typically both - good at cleaning floors and above-the-floor cleaning.
3. What Will I Use My Steam Cleaner For?

Deciding which kind of steam cleaner to get involves considering what your cleaning needs are. If you are simply interested in replacing mopping with steam cleaning, all you need is a simple steam mop. However, if you want to be able to steam clean everything in your home, from countertops and bathroom tiles to curtains and mattresses, consider a more versatile unit.
4. How Important is Disinfecting?

Another thing to consider is how deep or thorough you want your disinfecting to be. If you are mostly interested in disinfecting bathroom and kitchen floors, or need to deep clean items that are particularly sensitive to moisture, a vapor steam cleaner is your best bet.
Vapor steam cleaners use a drier steam which is so hot that it evaporates extremely quickly. This technique is safe to use on items like upholstery and mattresses that should not be left wet due to the threat of mold.
The other benefit of vapor steam cleaners is their exceptional ability to sanitize. They not only force pathogens like E. Coli and Salmonella to the surface of the item being cleaned, but they actually kill them without the use of harmful chemicals. Keep in mind that regular steam cleaners deodorize and sanitize, but vapor steam cleaners are the most powerful.
Of these, LadyBug steam cleaners with TANCS are the cream of the crop. The TANCS system is the only EPA approved disinfecting mechanism that does not use chemicals. TANCS has been tested and certified and will offer you the closest thing to a sterile clean as possible in a residential setting.
5. Steam Cleaners Save Time, Money, and Space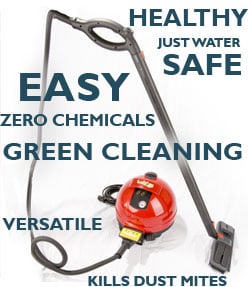 In the long-run, steam cleaners are not only beneficial to your health, but also to your budget, storage space, and peace of mind. Here's how:
Because steam cleaners work on so many surfaces and items in the home, you can use them to clean just about everything. That quality eliminates the need for specialized products or tools to clean various items. For instance, once you switch to using a steam mop to clean your floors, you won't need a mop, mop bucket, or floor cleaner. Just think how much closet space and money that alone will save you! Then consider all the harsh chemicals you keep for those toughest of cleaning projects, like scouring the grill or cleaning out the oven. You will gladly get rid of them (and never need to buy them again!) when you see how easily and safely steam gets rid of built-up dirt, grease, and grime.
By using one tool and the simplest and cleanest of "products" - water - steam cleaning can completely alter your cleaning routine, saving you money because you will no longer need special tools or products, and saving you space because you won't need to store them! By having one go-to tool that serves such a range of both frequent and occasional needs, you're also saved time and headaches. Who couldn't use that?
Once you see how clean you can get virtually everything in your home without the use of additional cleaning products and their attendant costs, hazards, and complications, a steam cleaner could become your go-to cleaning tool. By cleaning your home and getting rid of allergens safely and so effectively, a steam cleaner may very well revolutionize your entire cleaning routine.
---
When you're ready to compare, contrast and see
all available steam cleaners
or, to learn more about steam cleaners or how steam cleaning is a healthier way to clean, visit any of these more in-depth resources.
✔ Steam Cleaner Buying Guide
✔ Steam Cleaner FAQs
✔ New to Steam Cleaners?
✔ Steam Cleaner Maintenance Guide
Author: K. Gilmore