Royal-Pedic mattresses are popular throughout the world. Over the past 60 years, these mattresses have satisfied many people from the British Royal Family to U.S. Presidents. Also, many movie stars and sports legends have had their beds custom made by Royal-Pedic.
What is it about Royal-Pedic mattresses that makes them so popular all over the world? I decided to find out for myself.
I need a more supportive mattress because of some lower back pain that I have had on and off for several years. For that reason, I set up my sleep test with a full size Royal-Pedic All Cotton Mattress. This mattress is the firmest mattress that Royal-Pedic offers, so I added a 3" Royal-Pedic Pillowtop Pad. The pillowtop mattress pad gives you a little bit softer feel without taking away from the firm support of the mattress.
It didn't take me long to figure out what makes a Royal-Pedic mattress so special. After just a few nights of sleeping on the mattress, I really could feel a difference in the support and comfort that this bed combination offers. The biggest difference for me was that I did not wake up with the usual stiffness in my back and joints that I often feel in the morning.
I'm not surprised that a few years ago a Royal-Pedic bed won the Fox News Comfort Bed Test in Los Angeles, even though some of the other mattresses tested were much more expensive and had a more well-known brand name.
Sleeping on a Royal-Pedic allowed all the stress of the day to melt away even before I fell asleep. The mattress was very firm to provide orthopedic support, yet the pillowtop mattress pad provided a layer of soft, comfortable cushioning. The result was a more peaceful sleep. I did not seem to toss and turn like I sometimes do at night. There was absolutely no pinching, poking, sagging, or discomfort of any kind. And while I didn't do much tossing and turning, whenever I did change positions, the comfort level remained the same.
I actually have neck and back problems (probably from sitting in front of a computer all day), and the Royal-Pedic All Cotton Mattress certainly helped eased my back pain. I woke up feeling loose and refreshed instead of tight and stiff.
Besides the comfort and support, all Royal-Pedic mattresses feature high quality, hand-crafted construction that will last for years. Royal-Pedic craftsmen have been making the best beds in the world for over 50 years, and they are definitely good at their job.

Only the finest natural ingredients go into a Royal-Pedic mattress. High-grade, natural cotton, 100% organic cotton, natural latex, and untreated lamb's wool are just a few of the natural ingredients that make Royal-Pedic beds healthier for you and the environment.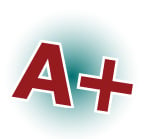 As a bonus for allergy sufferers, the natural latex and lamb's wool are naturally hypoallergenic. If you're allergic to dust mites, you will never have to worry about them living inside your Royal-Pedic latex mattress - because they can't! Latex is a natural dust mite repellent.
Overall, I give Royal-Pedic mattresses an A+ on its sleep test for its unbelievable comfort and support. The only thing my back enjoys more than a Royal-Pedic mattress is a professional massage.
---