Here are some of the Royal-Pedic mattress frequently asked questions. If you can't find what you're looking for, please submit a question via any product page, call, email, or live chat!
Why are they called "Royal-Pedic" mattresses?

"Royal" refers to the fact that the company's founder, Abe Kaplan, mastered the art of high-end mattress making during the 1930s and 1940s at Heals of London, a 200+ year-old company that made mattresses for the Royal Family of England and other dignitaries.
"Pedic" refers to the orthopedic (musculoskeletal) support provided by Royal-Pedic mattresses. Nowadays, there are many bedding companies that use the term "pedic" to describe their products, but Royal-Pedic has been providing unmatched orthopedic support for over 50 years.
What is special about the construction of Royal-Pedic mattresses?

Royal-Pedic mattresses are custom built and hand-crafted with the finest natural materials. They are hand-tufted the old-fashioned way for maximum orthopedic support. They are made to provide years and years of service, beyond what a traditional mattress. Royal-Pedic uses state-of-the-art sewing machinery to ensure that the sewing of your mattress is done with exact precision for comfort and durability. Check out our article on Royal-Pedic Craftsmanship and Special Delivery to learn more.
What is the difference between a latex mattress and cotton mattress?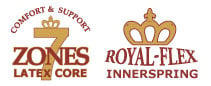 The natural latex core in the Royal Latex Mattress conforms to the body and provides the right level of support in all the right places. In addition, it is naturally antibacterial and resistant to dust mites. Royal-Pedic Cotton Mattresses feature the Royal-Flex Innerspring system which has 85% more coils than standard mattresses. This feature provides excellent orthopedic support, outlasting and outperforming traditional innerspring mattresses. Check out our Royal-Pedic Mattress Buying Guide to learn more about the features of these mattresses.
What is the difference between organic cotton and natural cotton?
Organic cotton is grown without the use of chemical fertilizers or pesticides. Additionally, the Royal-Pedic Organic Cotton Mattress, the Royal-Pedic Organic Natural Latex Mattress, and the Royal-Pedic Organic Cotton Crib Mattress are manufactured without the use of formaldehyde, glues, dyes, resins, polyurethane foam, or synthetic latex. Royal-Pedic Organic Mattresses are healthy for you and the environment.
Natural cotton consists of U.S. grown cotton. Royal-Pedic selects only the highest grade of this domestic cotton for use in their mattresses. See our article on Royal-Pedic Natural Materials to learn more.
What are the benefits of having a Royal-Pedic Adjustable Bed?

The Royal-Pedic Adjustable Bed allows you to elevate the head to alleviate heart burn from a hiatal hernia; elevate the feet to help with circulatory ailments; elevate the head and feet to read, eat, relax, and watch television; and slightly elevate the head and feet to reduce lower back pain. In addition, the massage option alleviates stress and promotes relaxation and healthy blood flow.
Why is a doctor's note required to purchase a Royal-Pedic organic mattress?
A doctor's note is required to purchase the R-P Organic Cotton Mattress and the Royal-Pedic Organic Cotton Crib Mattress because they do not contain any fire retardant materials. However, if you select the French Wool Wrap option for a Royal-Pedic organic mattress, then you do not need a doctor's note. The hypoallergenic wool serves as a natural flame retardant and meets all fire safety codes.
Why does it take so long to deliver a Royal-Pedic mattress?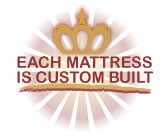 It takes several weeks for delivery, because each Royal-Pedic mattress is custom made for you! Because each Royal-Pedic bed is custom built for you, please allow four to six weeks to receive your order. For adjustable beds and custom sizes, the delivery time could be longer. Once your Royal-Pedic bed is ready, a product expert will call and arrange a convenient delivery time.
Why are Royal-Pedic mattresses recommended for allergy sufferers?

Royal-Pedic mattresses are made of the finest natural ingredients. The natural cotton padding on all Royal-Pedic mattresses ventilates body heat and wicks away moisture. It is this moisture that sets the stage for bacteria and dust mites. Royal-Pedic latex mattresses are naturally resistant to dust mites and bacteria; dust mites cannot live inside the latex mattresses. The hypoallergenic lamb's wool in Royal-Pedic mattresses and Royal-Pedic mattress pads is also naturally resistant to dust mites. These components, paired with getting a better night's sleep, are some of the best reasons to invest in a Royal-Pedic mattress.
Why should I buy my Royal-Pedic mattress from AchooAllergy.com?
Besides a superior quality mattress made with great attention to detail, you will get other great perks like free ground shipping, no sales tax, and top-notch customer service. See Why buy a Royal-Pedic Mattress? for more details.
Now that you've read up on the Royal-Pedic mattresses frequently asked questions, shop now or visit one of these other helpful Royal-Pedic resources.
---