If you have made it to this Royal-Pedic Mattress Buying Guide, then you are probably already familiar with Royal-Pedic's stellar reputation. Hand-crafted and using only the finest natural materials, Royal-Pedic mattresses offer unmatched comfort, support, and durability. Now, without further ado, let's find the Royal-Pedic mattress that's right for you.
---
Royal-Pedic Mattress Buying Guide: Latex Core vs. Cotton Innerspring
In selecting a Royal-Pedic mattress that is right for you, you should consider three things. First, do you want a mattress with an innerspring system or one that simply has a latex core? Secondly, how firm of a mattress do you need? And lastly, do you want an organic mattress? Once you have answered these three questions, you will have likely narrowed your selection down to one or two Royal-Pedic mattresses.
The latex mattress is one of the newest product in the mattress industry, and the Royal Latex Mattress and the Royal Latex Quilt-Top Mattress reign supreme. Latex is naturally antibacterial and resistant to dust mites, and it lasts virtually forever. The natural latex used in Royal-Pedic mattresses comes from the sap of rubber trees in Malaysia and Indonesia. It is not synthesized in a lab using petrochemicals, and the latex cores are produced in accordance with Oeko-Tek European environmental standards. Since there is no inner spring system, two sleepers can rest side-by-side in motionless comfort on a Royal-Pedic latex mattress. The supple latex conforms to the body and provides independent support for two people of varying sizes and weights.
The latex mattress core has several pincore holes in it. These holes make the latex softer and more comfortable. Larger holes give the latex even more cushion. The size and placement of the pincores make up Royal-Pedic's 7-Zones of comfort and orthopedic support. The firmest zone with the smallest pincore holes supports your lumbar vertebrae to relieve lower back pain, while the softer zones cradle your shoulders, hips, and legs.
Royal-Pedic Cotton Mattresses feature the Royal-Flex Innerspring system with 85% more coils than standard mattresses. The extra thick coils are double heat tempered which makes them extremely durable and resistant to sagging. Royal-Pedic craftsmen utilize these coils to create areas of varying firmness. More coils rest in the center third of the mattress to provide better support for your lower back.
Royal-Pedic Latex and Cotton mattresses feature an outer layer of hand-tufted cotton padding. The premium cotton padding is pre-compressed and hand-tufted the old-fashioned way for maximum orthopedic support. You'll never have to worry about lumps or shifting materials with a Royal-Pedic mattress. Nor will you ever have to worry about sagging polyurethane foam in a Royal-Pedic mattresses - Royal-Pedic doesn't use these types of materials.
---
Organic Cotton Padding vs. Natural Cotton Padding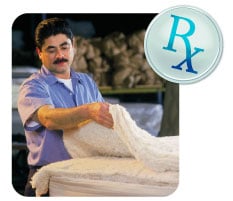 Organic cotton products continue to grow in popularity. Consumers have many different reasons for choosing organic cotton products. Many of our customers insist on the R-P Natural Organic Mattresses because they are extremely sensitive to the various synthetic chemicals that may off-gas from non-organic materials. Not only is the 100% organic Peruvian cotton grown without pesticides or chemical fertilizers, but the entire mattress is made without using formaldehyde, glues, dyes, resins, polyurethane foam, or synthetic latex. Also, many customers choose organic cotton products because the growing method is better for the environment.
*Please note that a doctor's note is required for the purchase of a R-P Organic Cotton Mattress because the mattress does not contain any flame retardant chemicals. However, a doctor's note is not required to purchase the R-P Organic Cotton Mattress with Wool Wrap because the wool acts as a natural flame retardant and meets all safety regulations.
The R-P Organic Latex Quilt-Top Mattress is also available for those who want a natural latex core mattress wrapped in 100% organic cotton padding. A doctor's note is not required to purchase the R-P Organic Natural Latex Quilt-Top Mattress.
The Royal-Pedic Cotton Mattresses are made with premium natural cotton grown in California and Texas. Although it's not 100% organic, the natural cotton ventilates body heat and lasts longer than the standard polyurethane foams. These high-grade cotton fibers are normally found only in high-end upholstered furniture.
---
Royal-Pedic Mattress Buying Guide - Choose Your Level of Firmness







Firmest:

Firm:

Medium:

Plush:
---
Royal-Pedic Deluxe Adjustable Beds

Royal-Pedic Adjustable Beds feature whisper quiet German motor technology that allows you to elevate your head, feet, or both at various angles to alleviate stress and pain. Available with the Royal Latex Quilt-Top mattress, Royal-Pedic Adjustable Beds offer amazing technology for stress relief, relaxation, and healthy sleep. This bed is ideal for reading, watching TV, working on a laptop, and more. The Adjustable Bed comes with the headboard hugger, a cordless remote control, and dual massage feature.
Royal-Pedic Pillowtop Pads

If you would like to be able to alternate between a firm and plush sleep surface, or if you want to add more cushion to your current mattress, select an optional Royal-Pedic Pillowtop Mattress Pad or Royal-Pedic Organic Cotton Mattress Pad.
Royal-Pedic Custom Mattresses

Since each Royal-Pedic Mattress is made to order, Royal-Pedic has the unique ability to do a wide variety of custom mattresses. If you want an oversized mattress, a round mattress, custom mattress for a boat or yacht or any other custom or unique mattress, contact us! Once we have the specifics and information on what you want, we can provide a quote and get your custom order placed.
Ask the Experts

Now you've went through the Royal-Pedic Mattress Buying Guide, you should be nearly ready to find the right mattress for you! If you still have questions about which Royal-Pedic mattress is right for you, ask a friendly Royal-Pedic expert at 1-800-339-7123. Return to view all Royal Pedic mattresses or visit one of our resource pages listed below.
---