Freight Shipments - LTL (Less Than Truckload)
Most of our large items like crawlspace, commercial restoration, and basement dehumidifiers require a different type of shipping than your standard parcel service, i.e. UPS or FedEx. In most instances, large and heavy items ship via freight truck or what is called Less Than Truckload ("LTL"). This means your item will ship to you via a larger trucking / freight company and almost always strapped on a pallet.
What makes LTL different than parcel services is that LTL often involves larger items and larger trucks (that actually show up to deliver to your residence), a call to schedule a delivery window (since you have to be there to sign for the delivery), and slightly longer shipping times.
If we are shipping to your business, the shipment will be from our dock (or the manufacturer's dock) to your dock. Generally, we assume that you have a loading dock, warehouse workers, and equipment to unload the shipment like a pallet jack or forklift.
If we are shipping to your residence, delivery will be made via a tractor trailer. This delivery will be "curbside delivery" in a residential area. This means the driver will not be able to help remove the unit from the truck or move the item into your home. You will need assistance to bring the unit into your home. Freight carriers do not supply lift gate service unless requested before the item ships. Please request lift gate service to get your item off the back of the truck and down to the ground. Lift gate service is an additional service fee.
Quite simply, LTL is a safer, better way to ship these items. So which items ship out via LTL? Let's take a closer look at how each of these brands of products ship to you.
Santa Fe Dehumidifiers
&nbsp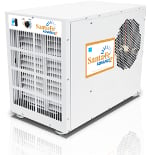 Santa Fe dehumidifiers are some of best available for keeping your basement and crawlspace dry, and ALL models, EXCEPT the Compact2, ship out LTL. The Compact2 is light enough and packed well enough to ship out via UPS. The remainder of the models will ship out via LTL on a pallet. The shipping company will typically contact you the day prior to arrange a delivery window for "curbside delivery". This means that they will not unload the unit from the truck. They simply bring it to your home where you sign for it. You are responsible for removal from the truck. For an additional fee, you can request lift gate service. Please call for a price quote. Currently, each Santa Fe dehumidifier ships as follows:
FREE GROUND SHIPPING - CURBSIDE DELIVERY (Lower 48 Only)
We try our hardest to get your order shipped as soon as possible, but due to the nature of LTL shipping this means that orders placed for models shipping from Santa Fe, located in Wisconsin, will ship the next business day. For Compact2 orders placed before 3 pm, they will ship the same business day. Classic or Advance2 orders placed before 12 pm will often ship out the very same day. Average shipping times range from 2 to 5 business days, but due to remote locations, holidays and inclement weather shipping times may be longer. Expedited delivery may be available, but you must call for a custom quote. All cut-off times listed are EST.
Ebac, Dri-Eaz, and Aprilaire Dehumidifiers
&nbsp

We make every effort to ensure that you get your dehumidifier as quickly as possible. The majority of our dehumidifier orders ship directly from the manufacturer (Newport News, VA - Ebac; Wisconsin - Aprilaire; Nashville, Tennessee or Washington - Dri-Eaz). We occasionally stock select Aprilaire and Ebac models in our Atlanta, GA warehouse. We offer free shipping to the contiguous U.S. with 3-5 business day delivery to most locations. Over 90% of all Ebac, Dri-Eaz and Aprilaire dehumidifier shipments arrive within 5 business days from their ship date.
Orders for all in-stock Ebac dehumidifiers received before 4:00 p.m. EST ship the next business day. You must be available to sign to confirm delivery.
Orders placed AFTER 4:00 p.m. EST Monday-Friday will ship in two business days. All Ebac dehumidifier orders placed on Saturday or Sunday will ship the next business day.
All Ebac, Dri-Eaz and Aprilaire dehumidifier orders ship via LTL truck or FedEx Freight. UPS, regular FedEx, DHL or USPS parcel shipping is not available.
For all deliveries, curbside delivery is standard. Inside delivery is only available for an additional fee, please call for an inside delivery quote.
Tracking information will be provided the day after the unit(s) is shipped and will be emailed to you.
Expedited shipping may be available in some cases. Please call for a quote.
Please note that Holidays or inclement weather may delay the arrival of your order.
Important Information on Santa Fe, Ebac, Aprilaire and Dri-Eaz Dehumidifier Returns
&nbsp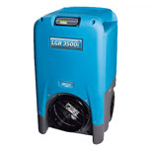 We offer a 60 Day Return Policy. All Ebac, Aprilaire, and Dri-Eaz dehumidifiers returned to us must be in "like new" condition and in the original packaging. Items not in like new condition will incur a 15% restocking fee or be returned to you at our discretion. You are responsible for shipping the dehumidifier back to us (or to the manufacturer). Therefore, if you decide to return your dehumidifier, your refund will be the cost of the dehumidifier minus the cost of the promotional shipping.
Shipping rates do not include duties, taxes, customs fees, or any other type of customs brokerage charges. Customers outside of the United States will be responsible for any additional fees upon receipt.