Santa Fe Classic Dehumidifiers
Santa Fe Classic Dehumidifiers
No one likes having a wet or damp basement. From mildew odors and mold growth to insects, a damp basement can affect the entire health of your home, but there is a way to reduce or eliminate all of these things with one simple solution. The Santa Fe Classic dehumidifier is the ideal home appliance to keep your basement dry for years to come. With durable
construction, a powerful yet energy efficient motor, and superior quality, Classic home basement dehumidifiers effectively dry spaces up to 2700 sq. ft. Useful features and a variety of optional accessories (condensate pump or ducting kits) give you the flexibility to configure, mount and set up this model to meet your exact needs, and with a vertical configuration and flow-down design, the Santa Fe Classic is unmatched in ease-of-use, versatility and efficiency. When many conventional home basement dehumidifiers have stopped removing water from the air, the Santa Fe Classic continues to protect your family and your home. Try this dehumidifier for basements today!
Santa Fe Classic Basement Package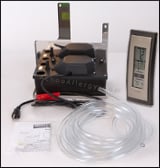 The Santa Fe Classic is a highly versatile basement dehumidifier, but there may be instances where gravity is working against the flow of the extracted moisture. For situations like these, the Classic Basement Package is the ideal solution. This kit provides all the tools you need to push moisture to a floor drain or sink even when that means having to pump the water vertically. The supplied length of 20' of hose provides all the reach you will need while the included humidity gauge provides real-time reading of indoor and outdoor humidity and temperature (via a wireless, remote sensor) as well as time, date and other useful information. The pump conveniently bolts to the body of the Classic for a neat, clean appearance without a lot of hassle or mess.
---
Features
Removes 110 pints per day

, AHAM (@ 60% RH, 80° F)
Energy Star Qualified

Powerful

275 CFM fan move air efficiently throughout large basements or crawlspaces

Auto Defrost

and

Auto Restart

(after power outage) features

Casters

for easy movement throughout your basement
Condensate Pump Ready for drying areas where a standard gravity drain is not possible

Steel Construction

Ductable for drying specific areas or can be tied into existing HVAC structure

Quiet operation

considering the amount of air that is moving.

Quiet compressor

due to sturdy and well-built construction
2 Stage Air Filtration,

Includes a MERV 13 air filter

and a

washable, coarse dust pre-filter

for superior air filtration.
One of the

industry's best warranties - 6 Year Full Manufacturer Warranty

Long

10' Power Cord

provides plenty of reach for any standard basement

Made in the USA
Solved a musty basement

We are planning to refinish part of our basement and we wanted to make sure we could control the moisture levels first. Our contractor suggested the Santa Fe Classic dehumidifier. We absolutely love how it has lowered the humidity level AND removed the musty smell in our basement. We plan to buy the duct kit once the refinishing is complete. Purchasing from achoo allergy was a breeze.

Santa Fe Classic Basement

Have had unit for 10 weeks now and so far am happy with the performance. My 1000 sq.ft. basement humidity was typically about 74%. The existing humidifier had ped it to 69% but the basement still smelled clammy and some items I had in a safe had mold growing on them. I set this unit at the recommended setting and my humidity ped to about 60%. I wanted below 50% so I put the unit on its max setting to see what I could get. It ran constantly for about 10 days before I got to 50% but it would not go any lower according to my old analog hygrometer . Just to be sure I bought a better unit and it indicated 36%! Seeing that the accuracy was +/- 6% it was at most 42%. In the end I was able to back down the setting on the unit so it doesn't run as much. 1st electric bill jumped quite a bit. Hoping for lower cost with the new setting. The wife is much happier now with the smell gone with the washer and dryer in the basement. For the cost they should include a humidistat. I rarely give anything 5 stars. If it runs 10 years I'll give it 5 stars :!
---


Santa Fe Classic Dehumidifier

A wet basement can be a serious problem in your home. Not only does it encourage mold and mildew growth but also creates the perfect environment for insects. These are two really good reasons to keep your basement or crawlspace dry, and one of the most popular ways to accomplish this and maintain a drier home, free of mold is with the Santa Fe Classic Dehumidifier, designed specifically for basements. Let's breakdown the strengths and weaknesses of this dehumidifier.
What I like about the Santa Fe Classic
Capacity - The AHAM rating for the Santa Fe Classic is 110 pints. So in very warm, humid conditions (80° with 60% RH), the Classic is right in line with most large basement dehumidifiers. The capacity is higher than some of your more traditional models that people use in basements, like Danby, Kenmore, etc., and this is largely due to a stronger blower with a higher CFM. At 275 CFM, the Classic can cycle through over 16,500 cubic feet of air per hour. So, in a basement with an eight foot ceiling you're talking about the ability to cycle through ALL the air in a space that is 45 ft. x 45 ft. That's a big basement!
Energy Star Rated - Not only does the Classic dry large spaces, but it does so with less expense than comparable basement dehumidifiers. Unlike others, the Santa Fe Classic exceeds Energy Star standards. Per kilowatt, this model can extract over six pints of water. Though the initial cost of the Classic is going to be higher than other models, you tend to make that up on your monthly power bill in short order. Compared to some basement dehumidifiers this is going translate into HALF as much of a monthly increase in your electric bill.
Durable - You won't find any plastic with the Santa Fe Classic basement dehumidifier. The vast majority of this unit is steel, including the exterior housing and internal structure. This does add some weight, but the upside is a model that's built to last.
Filtration - In a crawlspace, air filtration isn't quite as important as in a basement, and most filters used in dehumidifiers tend to only trap the larger particles that can clog up the motor/blower and coils. The Classic provides some of the best air filtration of any dehumidifier available, not only keeping the air clean for the blower but, more importantly, for you as well! First, there is a washable, large particle prefilter to trap visible particles like hair and dust bunnies. Next, there is a MERV 13 pleated filter. This filter traps particles as small as one micron. For your basement this means additional air filtration beyond what your normal furnace filter would provide.
Additional Features & Add-Ons - Auto Restart and Auto Defrost are both features that help to keep the Santa Fe Classic running even when conditions aren't the best. The included casters are one feature that make the Classic uniquely suited for basements. In addition to these built-in features, the Classic is built to be customized. From ducting and mounting kits to condensate pump kits, the Classic is made adaptable to your specific situation.
American Made - Each Santa Fe dehumidifier is crafted in Wisconsin, which makes this brand one of the few that is actually built here in the U.S.
The Santa Fe Classic basement dehumidifier is easily one of the top three most popular models offered. It's well built, durable, extremely efficient, and can make a dramatic difference to the overall health of your home. By lowering humidity the Classic can stop mold and drive insects out of your basement while reducing mildew odors and actually improving indoor air quality. One other thing to keep in mind, the warranty for Santa Fe dehumidifiers has improved. Each model is now covered by a 6 Year Full Manufacturer Warranty. While the cost can be higher than other models, power consumption is less, and you can take some pride in owning one of the few home appliances that is still made right here in the U.S. If a wet basement is your problem, the Santa Fe Classic dehumidifier is the solution you're looking for!
---
Product Questions
We have a Santa-Fe Dehumidifier in a finished basement. The basement floor is tiled. I was told we should raise the dehumidifier off the floor on blocks or 2by4's, as it's drawing moisture from the ground under the floor and that affects the efficiency. Is that correct?
What is the recommended time for replacement of the air filters on the Sante Fe Classic? Which dehumidifier would you recommend for our basement? It is 900sf, with 7.5'ceilings and a concrete foundation slab that has no waterproofing membrane. We live in a location where the water table level is just below the basement slab during several months of the year.
Santa Fe Classic Dehumidifiers Specifications
| | |
| --- | --- |
| Recommended For: | Basement / Crawlspace (+3' Overhead Clearance) |
| Model Number: | 4029700 |
| Coverage: | 2700 Sq. Ft. |
| Water Removal: | 110 Pints per day @ 60% RH, 80° F |
| Power Supply: | 115v, 6.4 Amps with 10' power cord |
| Energy Factor: | 6.3 Pints/kWh (2.98 L/kWh) |
| CFM Rating: | 275 |
| Noise: | 62 dBa |
| Auto Defrost: | Yes |
| Auto Restart: | Yes |
| Effective Operating Range: | From 56° F - 95° F (will operate as low as 41° F) |
| Air Filter(s): | Two (16" x 20" x 2" MERV 13 AND Washable Prefilter) |
| Drain: | 9/16" ID (5' Hose Included) |
| Casters: | Yes |
| Condensate Pump: | Optional |
| Dimensions: | 20" W x 36" H x 17" L |
| Weight: | 110 lbs. |
| Warranty: | 6 Year Full Manufacturer Warranty |
---
Santa Fe Classic Dehumidifiers Additional Resources
Santa Fe Classic Dehumidifier Owner's Manual


Santa Fe Classic Dehumidifier Spec Sheet


Dehumidifier Buying Guide
Dehumidifier FAQs
Top Five Crawlspace Dehumidifiers
Information About Mold


---