Santa Fe Advance90 Dehumidifiers
Ships in 1-2 Business Days
Santa Fe Advance90 Dehumidifiers
As the next step up from the Compact, the Santa Fe Advance90 (formerly the Advance2) 90 pint dehumidifier offers more robust dehumidification for larger spaces up to 3,400 sq. ft. Durable construction and an array of useful features make the Advance90 a great fit for the basements and crawlspaces of medium size homes. Energy Star certified, the Advance90 quiet basement dehumidifier dries without costing
you a bundle. Keeping your basement and crawlspace dry is critical in maintaining a healthy home, and by keeping relative humidity levels in check, you can reduce insects, mold, and mildew odors not only in these spaces but throughout the home. Like other Santa Fe dehumidifiers, the Advance90 dehumidifier has a configurable dual exhaust as well as a variety of add-ons and accessories to customize your installation to exactly what you need. When you're ready to try the best, choose a Santa Fe Advance90 dehumidifier.
Santa Fe Advance90 Basement Package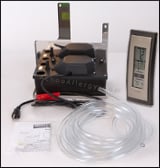 At times, a simple gravity drain may not be an option or hanging/wall mounting your dehumidifier may not be possible. In cases like this, you can still keep your basement or space dry with the Santa Fe Advance90 Dehumidifier Basement Package. This kit comes with all of the components you need to lower humidity and drain away the extracted moisture regardless of the layout of your space. This quiet basement dehumidifier kit includes your Santa Fe Advance90 Dehumidifier, a bolt-on condensate pump with 20' of drain hose, and an AcuRite Digital Humidity gauge with indoor/outdoor humidity, temperature, clock & calendar with a wireless sensor. Find a quiet dehumidifier for basements here today!
---
Features
Removes 90 pints per day

, AHAM (@ 60% RH, 80° F)
Exceeds Minimum Energy Star Qualifications

Powerful

309 CFM Fan move air efficiently throughout large basements or crawlspaces

Auto Defrost

and

Auto Restart

(after power outage) features
Rugged steel construction
Condensate Pump Ready
Ductable for area specific drying with dual exhaust outlets for custom configurations
Quiet Operation

MERV 13 Air Filter

Industry Leading Warranty - 6 Year Full Manufacturer Warranty
Made in the USA
---
Santa Fe Advance90 Dehumidifiers - A Closer Look
The humidity control is adjusted by a dial that turns the dehumidifier on and off. The compressor turns on when the relative humidity (RH) rises to the dial set point then shuts off when the RH is within ±5% of the set point. When installing, I recommend using a hygrometer to get a reading on your current RH. Then, after installing the dehumidifier, checking the RH and adjusting until you get it to a set point that provides exactly what you need.

Approximate Humidity Levels Per Setting
"Drier" 35% to 45% Relative Humidity
"Normal" 45% to 55% Relative Humidity (Recommended for most applications)
"Humid" 55% to 65% Relative Humidity
---
---


Santa Fe Advance90 Dehumidifier
One thing you may notice with Santa Fe dehumidifiers is that although they share many of the same characteristics, each are uniquely suited for different size spaces in your home. With the Advance90, this is exactly the case. The Santa Fe Advance has been redesigned, so the Advance90 looks and operates more like the rest of the Santa Fe dehumidifiers. Yet even before the changes, the Santa Fe Advance was and remains one of the three most popular models in the entire line. So without further ado, here's how the Advance90 stacks up.
What I like about the Santa Fe Advance90
Coverage - With a coverage area of 3,400 sq. ft., the Advance90 is a step up from the Compact. At this size, you're looking at drying a space that is large enough for most crawlspaces or basements. One thing that aids in this larger coverage is that instead of the warmed, dried air exiting the machine through one port, this model has dual exhaust openings, allowing for more air to freely flow throughout the space, from more than just one direction. And, with a powerful blower that pushes over 300 cubic feet per minute (CFM), this means faster and more thorough drying of your basement or crawlspace. Lastly, the design and size of the coil is the last piece of the puzzle. An oversized coil and regenerative heat exchanger allows for more thorough and efficient use of energy. While the CFM is unique to the Advance90, the technology behind the cooling system is standard in Santa Fe dehumidifiers.
Efficiency - Just as the Advance90 offers better coverage, it is also more efficient. Like the others, it exceeds the minimum requirements for Energy Star certification. More than that though, per kilowatt of power used, the Advance90 offers more water removal - 1.4 pints more per kilowatt used. Many times these numbers seem small, but when you're talking about a machine that will literally run for months at a time, and one that can remove thousands of pints of water in that time frame, the savings adds up fairly quickly. Over the course of a year, this can make a significant difference in your power bill.
Durability and Adaptability - A steel chassis and body lends itself to years of dependable service, and unlike plastic models, bumping or banging into it won't crack or break steel. In addition to this, the MERV 13 air filter removes the vast majority of particulate in the air - particulate that often sticks and builds around the motor and blower, shortening the lifespan of other crawlspace dehumidifiers. For more specific installations, there is a wide variety of accessories available for the Advance90 dehumidifier. These range from casters and mounted condensate pump kits to collars for ducting. This provides some versatility if you were looking to integrate this system into your existing HVAC or if you were considering some type of "through-the-wall" installation.
Warranty - Santa Fe dehumidifiers have some of the best warranties in the business, covered by a 6 Year Full Manufacturer Warranty.
Like other Santa Fe dehumidifier models, the Advance90 has auto restart and auto defrost features. The fan/blower can also be set to run continuously to improve air circulation throughout the space, and even when running the Advance90 is quiet enough that most people won't even know it's there. Cost will always be a sticking point for some people with these models, but it gets a lot easier to justify when you factor in unmatched efficiency, durability, customization options, and water removal capacity. There is more value wrapped up in this model than less expensive crawlspace dehumidifiers. Once you've diagnosed your crawlspace or basement problem, it doesn't take much to discover that the solution is the Santa Fe Advance90 90pint dehumidifier.
Product Questions
My crawlspace is approx. 48" high,1985 sq. ft. I am sealing it up encapsulating would the Santa fe 2 be sufficient or the advance be necessary.minimal moisture, my problem is with outside air condensing in the crawlspace
will this basement unit also work for upper level of the house like the living area kit etc.if basement door left open. thanks jean
I have Santa fe advance de humidifier what is the setting for winter time setting when temperatures are in the teens and up to the forays,it shows dry what should be the setting.
Santa Fe Advance90 Dehumidifiers Specifications
| | |
| --- | --- |
| Recommended For: | Basement / Crawlspace |
| Model Number: | 4034180 |
| Coverage: | 2700-3400 Sq. Ft. |
| Water Removal: | 90 pts. per day @ 60% RH, 80°F |
| Power Supply: | 115v, 5.7 Amps with 10' power cord |
| Energy Factor: | 6.4 Pints/kWh (3.0 L/kWh) |
| CFM Rating: | 309 |
| Noise: | 64 dBa |
| Auto Defrost: | Yes |
| Auto Restart: | Yes |
| Effective Operating Range: | From 49° F - 95° F (will operate as low as 41° F) |
| Air Filter(s): | MERV 13 |
| Drain: | 3/4" Threaded NPT (8' Hose Included) |
| Casters: | Optional |
| Condensate Pump: | Optional |
| Dimensions: | 14.5" W x 26" L x 19.4" H |
| Weight: | 80 lbs. |
| Warranty: | 6 Year Full Manufacturer Warranty |
---
Santa Fe Advance90 Dehumidifiers Additional Resources
Santa Fe Advance90 Dehumidifier Owner's Manual
Santa Fe Advance90 Dehumidifier Specifications Sheet


Dehumidifier Buying Guide
Dehumidifier FAQs
Top Five Crawlspace Dehumidifiers
Information About Mold
---