Our Miele experts consistently field questions about the benefits of the canister vacuums versus the Miele upright vacuums. Traditionally, there has always been a clear distinction between canister and upright vacuum cleaners, but with Miele, many characteristics have been adapted from the canister to the upright. This has blurred the line a bit, but there remain a myriad of factors to consider before purchasing a canister or upright. In the broadest terms, we have generally recommended upright vacuum cleaners for consumers with more carpeting in their homes. Uprights generally work better on medium to deep pile and wall to wall carpeting. For hard surfaces, we lean towards canister vacuums. Which is right for you? Miele canister vs Miele upright?
Here in the U.S., uprights have long been the favored style, but in an attempt to bridge the gap between canisters and uprights, Miele canisters have been adapted to better handle all cleaning situations; at the same time, with the Dynamic U1 (formerly the S7), Miele has addressed the weaknesses of traditional uprights and has turned them into strengths. So before purchasing, here are some strengths and weaknesses of each to consider.

Advantages:
Miele canisters are quieter than the uprights
The extension wand allows you to work high above your head on ceiling corners, book cases, and drapes - above the floor cleaning
A flexible, crush-proof hose provides excellent versatility
Low profile power brushes allow you to get around furniture, under beds, and into tight areas better than an upright--canisters reach all the way under the bed
The power brush attachments for Miele canisters are excellent at edging
Canisters work better on stairs, because they are lighter to carry, can maneuver in tighter spaces and can be used while sitting upright
Because canisters tend to be smaller and within the line of Miele canisters there is a wide variety, so simply for space reasons, canister vacuums can often better for small homes or large condos and apartments.
Each canister is equipped with a retractable electrical cord that is stored inside the body
Canisters are the better when cleaning car interiors
The cleaning tools are stored inside the canister body
If a turbo brush or power brush breaks, you can replace the attachment without having a repair shop fix the entire vacuum
Disadvantages:
The canister is out of your sight while in use. You must pull the canister along behind you, so sometimes you may find yourself getting hung up on furniture as you clean
You have to lift canister to move over high thresholds and into other rooms (or get a running start! - generally not recommended)
Most require a brush attachment change when switching from carpet to hard surface flooring

Advantages:
More powerful suction and cleaning action on wall-to-wall carpeting
Better for use in larger, open spaces with carpeting and hallways
The S7s, though heavier, are nearly self-propelled when the brushroll is engaged
More maneuverable and put you in complete control of the vacuum
Uprights tend to be more convenient and save more time. Easy to use and to store. Just plug it in and you are cleaning. Wind the cord onto the handle and put away in the closet
Vacuum is always in front of you to see where and what you are cleaning.
Automatic height adjustment
Dust bags are larger and require less changing
LED Brush Light (except Twist model)
Exceptional 55 ft. cleaning radius
Ability to turn the brush roll on and off to move easily between surfaces
Has a strong, crush-proof, flexible hose for stationary cleaning and dusting
Disadvantages:
The U1 does not have a retractable cord
It is harder to vacuum stairs
Uprights are heavier and harder to move up and down stairs and around a larger home
If brush roller or another part of the vacuum breaks down, you must take the vacuum in for repair
The Miele Dynamic U1 Uprights have addressed many of the consumer complaints with traditional uprights by integrating a few of their canister features while simply fixing problems that other uprights refuse to address. Here are just some of the innovative new features that Miele has employed to bridge that gap between their canisters and their new uprights:
The hose is long, fully retractable and crushproof
The vacuum is very stable when using the wand
The swivel-neck design allows you to turn and get around furniture more easily
The slim 6 inch profile, while lying flat, means you can get under most furniture
All the accessory tools are on board and fully integrated, snap into place
The Dynamic U1s feature Miele's Sealed System and Active HEPA filter which are designed for allergy sufferers
Miele Canister vs Miele Upright?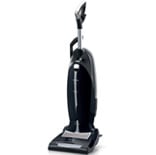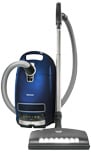 Because of Miele's innovation and goal to create vacuum cleaners that will suit all of your cleaning needs, the division between upright and canister vacuum cleaners largely boils down to a matter of personal preference. We still recommend that you buy an upright if you have a large home with wall-to-wall carpeting. The canisters and uprights are comparable in durability. Each possesses the unique styling and modern color choices of the Miele brand. With both designs, you will find the core of Miele's best features combined with their commitment to produce quality products. Miele has designed the canisters and uprights with overlapping features to perform any cleaning tasks in your home.
---
Shop Miele Vacuum Cleaners
or learn more!