What is an AirClean HEPA filter?
In recent years, the European Union standards for HEPA filtration have changed, and with this change, Miele redesigned their Active HEPA filter into the newer AirClean HEPA filter. So what's the difference? You'll know the difference by the plastic housing. AirClean HEPA filters are white while the older Active HEPA filters are blue, and while the AirClean HEPA filters have lost the thin layer of activated charcoal for odor adsorption, their filtration has actually improved. The old HEPA standard in the EU was 99.97% of particle 0.3 microns or larger, but that has been moved to 99.95% of particles 0.1 microns and larger.

This HEPA filter is the core of the fine particle filtration that removes allergens like pollen, dust, and pet dander. These HEPA filters are independently tested and certified to meet or exceed HEPA filtration standards and when combined with the Miele Sealed System, 9-ply filter bag, pre-motor filter and post filter, Miele vacuum cleaners typically filter 99.99% of particles in that size range. The new filters also feature a Timestrip that takes any guesswork out of whether or not it is time to replace filters. The high end luxury Miele canisters have an indicator light, but for all filters now you can simply glance down at the filter to see when it needs to be changed. Typically users get about 50-60 hours of use from the filter before needing to replace it.


What does "Sealed System" mean?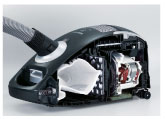 Through creative engineering and quality craftsmanship, Miele combines the best raw materials with the best filterbags and HEPA filters to create the Miele AirClean system. A key component to this system, and something that sets it apart from other vacuum cleaners is the "sealed system." This means that the filtration system of these vacuums is sealed, allowing no dirty to leak or escape the machine as you clean. Rubber seals or gaskets line the inner compartments, the filters, and the collar of the filter bags, in sealed system units. All Miele vacuums, except the Classic C1 models, feature a Sealed System.
Each current Miele vacuum has been awarded "excellent air quality" certification by the independent institute DMT Air Quality Testing. This award signifies the maximum protection for indoor air quality. The combination of a sealed system, HEPA filter and AirClean dust bag create the Miele AirClean system, which has been independently certified to exceed U.S. and European HEPA filtration standards. While other brands may say "HEPA filter", few ever submit their products to actual independent testing. Simply put, Miele vacuums are the most hygienic vacuum cleaners on the market today.
What is air flow?
Measured in CFM (cubic feet per minute), air flow is a measurement of the force exerted by the moving air from a vacuum cleaner. The air flow is what does the cleaning, and better vacuum cleaners have higher CFM ratings. Note that a vacuum cleaner with a powerful motor will not necessarily have a high CFM rating. A poorly engineered and constructed vacuum will not have much air flow, no matter how powerful the motor is. In general, a higher CFM means better suction and greater cleaning capability.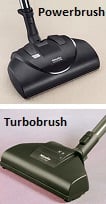 What is the difference between a turbobrush and a powerbrush?
A turbobrush is air-driven, whereas a powerbrush (or electrobrush) is electrically-driven. Miele turbobrushes work well for low to medium pile carpet, but if you have high pile carpet, wall-to-wall carpet, or pets, a brush powered by air flow alone might not clean well enough for you. In these cases, a powerbrush, with an independent motor, provides the extra power to deep clean thick or high pile carpet. Additionally, most of the powerbrushes have height adjustments to better clean on thicker carpet while turbobrushes often do not. Both types of carpet brushes feature rows of durable nylon polymer bristles to remove extra ground in dirt and entangled pet hair. Regardless of which type you have, you easily disassemble and clean both, and unlike other vacuum cleaners, the belt on these Miele floor tools tools will likely never have to be replaced.
Why are Miele vacuum cleaners recommended for allergy sufferers?
Miele's engineers have been researching, developing, and testing vacuum cleaners for allergen elimination for over 75 years, and they have produced the most effective and hygienic method of removing particulate, dirt, and allergens from the home. Through state-of-the-art engineering and product testing, all Miele vacuums can provide 12-stage filtration and nearly all feature a sealed system - unmatched in the world of vacuum cleaners.
Miele vacuum cleaners not only clean your floors, but they also clean the air you breathe.
Do Miele vacuums really last 20 years?
Yes! Try one for yourself and find out! Throughout the year, Miele vacuum owners will stop by our store to pick up bags, filters or attachments for Miele models they have owned for longer than we have been selling them. These vacuums are rigorously tested for just about everything that you would normally encounter while cleaning from things like simply using the vacuum and on/off switch thousands of times to bumps, bangs, pulls on the powercord and all those other common types of abuse the typical homeowner puts their vacuum through.
Why haven't I heard of Miele vacuums before?
Many vacuum cleaner manufacturers spend millions on dollars annually on massive marketing and advertising budgets (think Dyson, Hoover and Electrolux). Miele does not. Some vacuum manufacturers still rely on door to door sales (think Kirby). Miele does not. Most of the brands I've already listed can be found anywhere - big box, home renovation, outlet, discount, warehouse, and even clothing stores! I think I've even seen Dysons sold in gas stations! Miele, on the other hand, relies on independent dealers, like AchooAllergy and select larger stores to represent their product. All of these things combined mean that Miele simply doesn't have the exposure, or overexposure, that other brands do, and despite a company history nearly as old as the vacuum cleaner itself, Miele is a newer brand to the U.S. market, compared to legacy brands you likely grew up with.
What is your return policy?
Unlike most of our competitors, we offer a 60-Day Return Policy on Miele vacuum cleaners. Additionally, we service Miele vacuums. If you're local, stop by to check out the latest models, accessories, or to have your Miele serviced. If you're not, give us a call! Unlike some dealers, we're here to help, regardless of where you purchased your Miele. See Why buy from AchooAllergy.com? for more details about our company policies.