Miele vacuum cleaners offer every feature and convenience that an allergy sufferer could want. When you vacuum with a Miele, you'll breathe easier knowing that the allergens in your home will disappear for good. Miele has developed four specific lines of vacuums to meet your cleaning needs.

The Miele S7 series are upright vacuums that are recommended for large homes and those who prefer uprights over canister vacuum cleaners. The Miele S5 canister vacuums are the top of the line Miele canisters with all of the great features Miele is known for. The Miele S6 series are the perfect mid range canister vacuum suitable for most homes and featuring the latest in Miele's design and sound reducing technology. The Miele S2 series are introductory Miele canister vacuums with fewer features but solid cleaning ability.

Here are some frequently asked questions about Miele vacuum cleaners:


What is an Active HEPA filter?
The Active HEPA filter not only traps a minimum of 99.97% of particles as small as 0.3 microns, but it also contains Generally Activated Charcoal to absorb odors and chemicals. These filters are certified to meet or exceed HEPA filtration standards.


What is a Air Clean filter?
A Air Clean filter is an electrostatically-charged filter that traps 99.95% of particles down to 0.5 microns and 94% of particles down to 0.3 microns. If you're trying to balance cleaning with filtration, opt for the HEPA filter.


What does "sealed system" mean?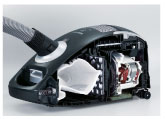 Through creative engineering and quality craftsmanship, Miele combines the best raw materials with the best dust bags and HEPA filters to create a sealed system, meaning that no dirty air leaks from any part of the vacuum cleaner. Rubber seals or gaskets line the inner compartment and the collar of the filterbag in sealed system units. With the sealed system, a Miele vacuum cleaner eliminates 99.99% of all particles as small as 0.3 microns. What this means for you is house with clean floors without the air pollution that most vacuums spew out.
The Miele S5 models - the Miele Capricorn, Miele Earth, Miele Libra, Miele Callisto & Miele Pisces - have been awarded "excellent air quality" certification by the independent institute DMT Air Quality Testing. These flagship models provide maximum protection for indoor air quality. The combination of a sealed system, HEPA filter and Air Clean dust bag create the Miele Air Clean system, which has been independently certified to exceed U.S. and European HEPA filtration standards. Simply put, Miele vacuums are the most hygienic vacuum cleaners on the market today.
What is air flow?
Measured in CFM (cubic feet per minute), air flow is a measurement of the force exerted by the moving air from a vacuum cleaner. The air flow is what does the cleaning, and better vacuum cleaners have higher CFM ratings. Note that a vacuum cleaner with a powerful motor will not necessarily have a high CFM rating. A poorly engineered and constructed vacuum will not have much air flow, no matter how powerful the motor is. In general, a higher CFM means better suction and greater cleaning capability.


What is special about Miele's Air Clean filterbags?
The AirClean filterbag features a 9-ply construction with a spring-loaded, self-sealing collar built into the bag. No only does the bag seal itself when you change it, but it also seals around the neck of the canister lid while in use. Each style is color coded to prevent confusion and offer many advantages:

33% longer suction performance than Intensive Clean bags
15% improved filtration
Air flow guides increase dust storage capacity by up to 25%
Self-sealing collar for hygienic removal and disposal
The AirClean dust bags blend maximum air flow with superior filtration, and these take the mess out changing your dust bags.


What is the ergonomic deluxe handle assembly?
Some models offer a deluxe handle assembly to ease strain on the wrist. This design is available in nearly almost all canisters and in every Miele S7 upright. Each handle is durable and fits easily in your hand giving you better control while cleaning.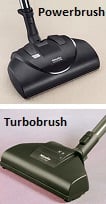 What is the difference between a turbobrush and a powerbrush?
A turbobrush is air-driven, whereas a powerbrush (or electrobrush) is electrically-driven. Miele turbobrushes work well for low to medium pile carpet, but if you have high pile carpet or wall-to-wall carpet, you'll probably want a powerbrush for deeper cleaning. Each features rows of durable nylon bristles to extra ground in dirt and entangled pet hair. Regardless of which type you have you easily disassemble and clean both.
Why are Miele vacuum cleaners recommended for allergy sufferers?
Miele's scientists have been researching, developing, and testing vacuum cleaners for allergen elimination for over 75 years, and they have produced the most effective and hygienic method of removing particulate matter from the home. Through state of the art engineering and product testing, a growing number of Miele vacuums provide a full 12 stages of filtration - unmatched in the world of vacuum cleaners.


Miele vacuum cleaners not only clean your floors, but they also clean the air you breathe.
What is your return policy?
Unlike most of our competitors, we offer an extended 60 Day Return Policy on Miele vacuum cleaners. See Why buy from AchooAllergy.com? for more details about our company policies.