We've found that many people are resigned to living with allergy symptoms, counting only on medication when symptoms get unbearable. That's why spreading the word about environmental control and the effective allergy relief products that are available is so important to us. We've found significant relief through using allergy relief products and environmental control measures, and we want others to enjoy the same positive benefits!
But even if you're aware of allergy avoidance routines, there's probably something more you can do to help you and your family stay healthy and breathe better this coming year. To help you kick your allergy relief routine up a notch, here are our top three allergy relief resolutions for 2012:
Purify Your Air Even More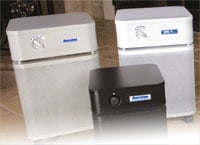 If you've implemented any allergen avoidance measures at home, you probably know that the first recommended steps are using allergy relief bedding and an air purifier in your bedroom. If you're just starting out with environmental control, purchase an air purifier and allergy relief bedding before you do anything else. You'll be astounded at the difference these two products make in controlling your allergy symptoms.
Perhaps these two steps are old hat to you. If so, we challenge you to add an additional unit to your home in 2012 to cut down on your total allergen load. Consider putting a unit in your family's living area, for instance. Or consider getting a portable air purifier to take with you to your office or while you're on the go. After all, the air you breathe is the main way you are exposed to allergens and using an air purifier helps make your air as allergen-free as possible.
Cover More Beds in Your Home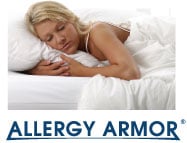 In addition to using air purifiers in bedrooms, allergists often recommend allergy relief bedding as one of the first lines of defense against allergy attacks. At the most basic level, allergy relief bedding should include a mattress cover and pillow covers. But, taking your precautions one more step increases the amount of relief you'll find. Add allergy covers to your box spring and to your comforter, if you have one.
Choose supplemental bedding such as blankets that can withstand frequent washing without showing wear, and consider replacing old pillows and comforters with newer, more allergy friendly options. To really take your allergen avoidance to another level, consider purchasing a mattress that is naturally dust mite resistant, like a Pure-Rest or a Royal-Pedic latex mattress.
Vacuum Better and More Often
As an allergy sufferer, you probably know what a big difference it makes in your symptoms to keep your home as clean as possible. Dusting often and getting those allergens off the floor and carpeting with a thorough vacuuming can make the air in your home feel better almost instantly. Be sure to use a HEPA vacuum cleaner that not only prevents allergens from circulating back into your home, but even purifies the air as you vacuum.
In addition to using the right vacuum for the job, it's also very important to vacuum frequently and use the most effective vacuuming techniques. This year, try adding another vacuuming day to your weekly cleaning routine. Make a concentrated effort to make every time you vacuum effective.
Remember, a quick vacuum should include three passes of the vacuum over every area you clean, while a thorough vacuum requires about seven sweeps of your machine - and these should be slow passes to allow as much dirt to be picked up as possible. Furthermore, remember to run the vacuum over carpeting in a few different directions to fluff up the pile, loosen dirt, and get as many allergen particles out of your home environment as you can.