P. Cade McDonald
AchooAllergy.com
Founder and CEO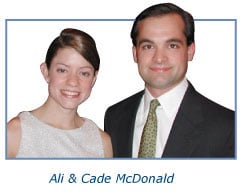 As a lifelong allergy sufferer, P. Cade McDonald recognized that while over forty million people in the United States suffer from allergy and asthma problems, no resource existed for them to learn more about allergy relief and environmental control products. Consequently, McDonald founded AchooAllergy.com in 2000 to provide a comprehensive line of allergy relief and air purification products as well as invaluable information on allergy and asthma management.
McDonald, a native of Gainesville, Georgia, grew up suffering from severe allergic rhinitis and was plagued with several sinus infections a year. After visiting an allergist when he was 16 years old, McDonald became aware of environmental control solutions. Ten years and countless sinus infections later, after falling in love with a cat owner, McDonald finally complied with his allergist and encased his pillows, mattress, and box springs with allergy relief pillow and mattress covers, and put an air purifier in his bedroom. Immediately, he began to feel and breathe better.
McDonald began his career at J. C. Bradford & Co., a regional investment bank, where he was involved in the initial public offerings of Mindspring Enterprises, ITC Deltacom, The Intercept Group and nFront. After business school, McDonald became the Director of Business Development and Marketing at Atlanta-based eGulliver.com, an online travel company, where he helped create and implement the company's marketing, affiliate partnership, and high-touch customer service programs.
McDonald holds a BBA in International Business from the University of Georgia and an MBA from the Goizueta Business School at Emory University. Additionally, McDonald is involved with Children's Healthcare of Atlanta and The Atlanta Speech School. McDonald is married and has two daughters, and he is allergic to dust mites, cat dander, mold spores, and pollen.

Note to Journalists: CEO P. Cade McDonald is available for interviews.
Allergy Armor product samples are also available.

Contact: P. Cade McDonald
cade@achooallergy.com
770-455-9999 ext. 101 or 1-800-339-7123