Top Five Portable Air Purifiers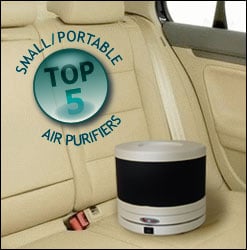 For some spaces using a full-size air purifier is overkill at best and simply not physically possible at worst. Whether it's a dorm room, small office, hotel room, or your car, compact and portable air purifiers can be a handy way to reduce allergens no matter where you are.

Ideally, a compact air purifier is relatively inexpensive, lightweight and compact but still provides filtration of a variety of airborne pollutants, whether particle, like pollen and dander, or chemical, like VOCs and smoke. This doesn't mean you should be stuck using an ineffective ionizer unit, which is common amongst portables. Compare our top compact air purifiers to find the best portable HEPA model to meet your needs.
Select one of our top five portable air purifiers or browse through our best of the rest section below.
---


$199.99

Compact, lightweight, inexpensive with comprehensive filtration - these terms all describe an ideal portable air purifier, and all fit the Amaircare Roomaid perfectly. The filtration is true HEPA with a rubber gasket to cut down on air leakage. An outer foam pre-filter keeps large particles out and extends the life of the HEPA filter; while an inner carbon filter removes light odors in small spaces. An optional VOC canister (granular activated carbon) offers filtration of moderate smoke odors and exhaust fumes; while an auto adapter kit, means your Roomaid can make a handy addition to your vehicle by plugging directly into the AC adapter. The Roomaid is economically priced and is our most popular air purifier for use in cars, trucks, and campers, as well as, small bedrooms and offices. Steel construction lends itself to durability, and even though it's a small air purifier, the Roomaid is backed by a five year warranty.



---



$159.99

Honeywell HEPA air purifiers always have been known for doctor recommended filtration at very reasonable prices. As their best compact air purifier in the Enviracaire line, the 17005 allows you to take HEPA filtration with you wherever you go. Convenient controls and a digital display provide you with the remaining filter life and a timer. The sealed HEPA filter is wrapped in a non-woven polyester pre-filter that has embedded carbon for light chemical and odor adsorption. Perfectly suited for a dorm room, nursery, and spaces up to 200 sq. ft., the Honeywell 17005 takes up minimal space and has a built-in handle that makes moving this 12 pound air cleaner easy.



---



$99.99

It doesn't get much easier to operate than the 3M Ultra Quiet. With one basic control knob and convenient filter access, this portable air purifier is so simple, even a child can operate it! Instead of using a HEPA filter, 3M uses a much less expensive (but nearly as effective) electrostatic filter. Similar to their Filtrete brand of furnace filters, the 3M Ultra Quiet traps 99.9% of all particles 0.3 microns or larger. At less than ten pounds and with a slim profile, this compact air purifier is extremely lightweight and fits just about anywhere in home or office. The only downside to this unit is that because it uses an electrostatic filter, once the filter media is full (usually 3 months), you need to replace it. Filters are inexpensive, and there is a measure of satisfaction of opening the unit up and seeing all the garbage in the air collected on the filter. The initial cost is really low, and because this small bedroom air purifier is Energy Star rated, you can operate it an entire month for less than it costs you to buy a candy bar. If noise is a concern, this model is definitely worth a second look.



---



$149.99

Similar to the 17005, the Honeywell 17000-S is a compact HEPA air purifier that delivers clean air without breaking the bank. With a carbon pre-filter and HEPA particle filter, the 17000 provides filtration of allergens like pollen, dander, mold spores and dust mites while offering light odor and smoke adsorption. Light enough to carry and small enough to fit well in any small room, this compact Honeywell air purifier provides standard features like fan speed control and filter change indicator lights. Filter changes are simple and require no tools, and like larger, more expensive models, the HEPA filter only needs to be changed once every few years. Breathe easier with the Honeywell 17000-S without spending a lot.



---



$169.00

5. Alen T100

The Alen T100 mini tower air purifier is one of the most compact, lightweight air purifiers we offer. Though you give up some particle filtration with this model (only 87% of particles 0.3 or larger), it makes up for it in a few other ways. First, there are a couple different styles of filters you can use with the T100, so whether your need is smoke, particle or microorganism control, there are unique Alen filters designed to meet these needs. Second, the Alen T100 comes with a full lifetime warranty. If you change your filters annually, you'll always be covered. Basic controls and the smallest footprint of any compact air purifier we offer means the T100 is not only easy to operate, but also fits well into any small space. Great for use on the go or in the bathroom, office, dorm room, or on your desk, this portable air purifier is a simple way to improve air quality without breaking your budget.


---
Compact Air Purifiers - The Best of the Rest