Airgle is an industry leader and a world class developer of air purifiers and indoor air cleaners. Their mission is to improve the health and well-being of people by designing and manufacturing the most reliable and effective air purification systems on the market. Airgle has mastered the art of air purification and created the PurePal air purifier that fuses high performance with modern design. As industry pioneers, they have developed a system with unsurpassed quality. An Airgle air purifier doesn't just help you breathe better: it offers peace of mind.
Call or Chat Now with our Product Experts for Special Offers and Volume Pricing!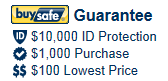 There are no products matching the selection.
More Information On Airgle Air Purifiers
Many popular air purifiers only meet 25% of their claims. How could a HEPA filter with 99.97% efficiency only meet less than 25% of the claims? The answers are the air purifier manufacturers claim their efficiency based on the filters, not the whole air purification system. The machine is not 100% sealed. System leakage allows air to bypass the filters. The poor construction design allows more air to bypass the filters than is actually forced to go through the system.
Airgle PurePal Series air purifiers are engineered with a pressure sealed design that forces 100% of polluted air through the filters. This should tell you why it's important to not just look for filter efficiency, but also the efficiency of the whole machine.
One of the most popular and affordable systems for allergy and asthma suffers, the PurePal air purifier (AG800) features 50 square feet of HEPAfast media and 3 lbs. of premium carbon. The PurePal's ability to effectively remove a large variety of particulate and molecular air pollutants makes it a very popular general purpose air purifier. In an independent test performed by the Association of Home Appliance Manufacturers (AHAM), the PurePal achieved CADR ratings that are among the highest in the indoor air quality industry.
The Airgle PurePal Plus (AG850) and PurePal Clean Room (AG900) feature the next generation of UV and PCO technology called Titanium Pro. As pioneers in the promotion of clean, safe air, Airgle has developed the world's first and only photocatalytic oxidation technology that uses a catalytic metal plate, electronic component, germicidal UV lamp and UV lamp ballast in one self-contained disposable module. This patent-pending technology makes the air purifiers easy to use and maintain. Titanium Pro kills bacteria and viruses down to 0.01 microns in size--30 times smaller than what a typical HEPA filter removes.
The Airgle PurePal Clean Room (AG900) air purifier is specifically engineered for airborne infection control. Hospitals, medical clinics, health care facilities, severe allergy and asthma sufferers, and those with other critical respiratory problems will find the AG900 perfect for their needs. It features a cHEPA filter with an efficiency of over 99.991%, 6 pounds of premium deep carbon bend, and our Titanium Pro module. The AG900 removes unwanted pollutants as small as 0.01 microns.
The Airgle MultiGas air purifier is tailor made for sufferers of Multiple Chemical Sensitivity (MCS). This air purifier packs in 15 pounds of premium activated carbon and a medical-grade cHEPA filter with an efficiency of over 99.991%. The PurePal MultiGas is our most popular air purifier to combat MCS, providing advanced technology for molecular and particle filtration.
---
Airgle Air Purifier - Company Information
Airgle was established in 1999. The company office is located in New York. Lots of research and development went into designing the PurePal which is reflected in the extremely high CADR ratings. Quality control is stressed throughout the manufacturing and shipping process. Airgle meticulously inspects not only the final product for safety, quality, workmanship and function, but they also inspect the raw materials and components before production begins.
In addition to offering exceptional customer service, research and development plays an extremely important role in the innovation process at Airgle. This ultimately results in innovative technology that surpasses what's found in competing products, and by setting the standard in air purification technology. Airgle exceeds the standard in air purification technology with exceptional products and service.
Discontinued Airgle Air Purifiers