Vanicream Lite Skin Care Lotion
Features
Ideal for Sensitive Skin & Eczema
Fragrance, Paraben, & Dye Free
Great Everyday Moisturizer
OR
Vanicream Lite Skin Care Lotion

Vanicream™ Lite Lotion for Sensitive Skin provides all the same moisturizing benefits of Vanicream™ Skin Cream, but in a lighter formulation. Lite Lotion spreads the fastest over face, feet, hands and body to soothe and hydrate skin without a greasy after-feel. Specially formulated for those with sensitive skin, Vanicream Lite Lotion is often recommended by dermatologists for its gentle, non-irritating qualities. Find relief with this sensitive skin and eczema lotion today!
Light and theraputic, Vanicream™ Lite Lotion is a refreshing alternative to often irritating skin products because it contains no perfume, lanolin, dyes, formaldehyde, or parabens - no harmful chemicals, fragrances or dyes to irritate sensitive skin, eczema, or dermatitis.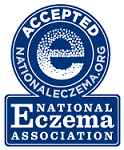 Lite Lotion goes on evenly and is absorbed quickly with no sticky residue. Vanicream™ Lite Lotion is approved by the National Eczema Association - Lite Lotion has been evaluated to determine that it does NOT contain ingredients or contents that are known to be unsuitable for use by persons with eczema or sensitive skin conditions.
Vanicream™ Lite Lotion comes in a 8-oz bottle with press cap and is good for every day use, use after sun or windburn, and even works well as a full body lotion. Also available in a Vanicream™ Lite Lotion comes in a 16-oz pump bottle 8-oz bottle with press cap (sold separately).
Features
Doctor recommended for sensitive skin
Light, therapeutic lotion keeps skin calm and hydrated
Beneficial to those with skin problems aggravated by lack of moisture
Carries the NEA Seal of Acceptance™ awarded by the National Eczema Association
Dermatologic formula contains no sulfates, phosphates, glutens, or any of these other common irritants:
NO parabens
NO PABA
NO dyes
NO lanolin or derivatives
NO fragrances or masking fragrances
NO formaldehyde
NO irritating preservatives
Easy-to-spread, quickly absorbed, non-staining, long-lasting
Kid friendly, and suitable for all ages and skin types
Non-comedogenic (won't cause blackheads)
Apply as needed to avoid dryness and skin irritation:
Use on hands, feet, face and body
Daytime or nighttime
After bathing, showering or swimming
Before exposure to the elements

---

Note: Vanicream™ skin care products have always been known for what is NOT in them. Please see this list of common chemical irritants often found in other products, and why they can be so irritating.
Vanicream Lite Skin Care Lotion - Ingredients
Purified Water, White Petrolatum, Propylene Glycol, Cetearyl Alcohol, Sorbitol Solution, Ceteareth-20, Simethicone, Glyceryl Monostearate, Polyethylene Glycol Monostearate, Sorbic Acid and BHT
---
nice product

This lotion feels really nice on my skin.

Wonderful

Love it sooo much...no wheat and soy!!! Yeah!! No More dermatitis!!!

The Best Lotion Ever

This lotion is the best I have ever tried. Using it only once a day greatly softened my dry hands and did not irritate, not even my face. Since I was eight years old I have had various diagnoses for skin rashes, among them eczema and contact dermatitis for which I use a prescription cream when necessary. That dries my skin but Vanicream Lite Lotion quickly proved it could moisturize my skin. It is also nice that this product can be ordered online and arrived in our rural mail box soon after ordering.

great product

This item is fantastic. I use this every day since getting over hives. I prefer the pump one better. the pump one is thicker, but both are great. I will use these items forever. Thank you

Great product for sensitve skin

This was recommended from my dermatologist because I have sensitve dry skin. This product works great. I even introduced this cream to my daughter who suffers from allergies and dry skin and she loves it.

Great Moisturizer

I use this lotion as well as my mother uses this and it mosturizes the skin leaving it smooth. I have dry skin nad it helps rejuvinate the skin to feel smoooth and helps block out the dry air that we have had this winter so far. It is great for those who have dry skin to use daily.

Lovely Lotion!

I purchased this for my son who has suffered from itchy irritated skin since he was an infant. For the first time in four years, my son's skin is soft, moisturized and not irritated or itchy. He actually asks for this lotion to be applied every day. It is a miracle! I wasted four years buying EVERYTHING else to moisturize his skin. I wish I had found this sooner! Note: I use this on him following his bath with the body cleanser and shampoo.
---
You may also be interested in the following product(s)
Product Questions
I&#39m disappointed that you would use BHT . I&#39m highly allergic to it.. I just purchased your shampoo & conditioner. Can you confirm it does not contain and is not packaged with BHT?
I have a nickel allergy does this product or any of your products contain nickel?
---