duct cleaning: a good thing?

Most people are aware that indoor air pollution is an issue of growing concern and increased visibility. Many companies market products and services intended to improve the quality of your indoor air. You have most likely seen an advertisement, received a coupon, or been approached by a company offering to clean your air ducts as a means of improving your home's indoor air quality. These services typically range from $450 to $1,000 per heating and cooling system, depending on the services offered and the size of the system.
It is normal for the return registers to get dusty as dust-laden air is pulled through the grate. This does not indicate that your air ducts are contaminated with heavy deposits of dust or debris; the registers can be easily vacuumed or removed and cleaned. Many people consider having their air ducts cleaned simply because it seems logical that air ducts will get dirty over time and should occasionally be cleaned. Duct cleaning has never been shown to actually prevent health problems. Nor do studies conclusively demonstrate that particle (e.g., dust) levels in homes increase because of dirty air ducts or go down after cleaning. This is because much of the dirt that may accumulate inside air ducts adheres to duct surfaces and does not enter the living space.
Additionally, many service providers fail to follow proper duct cleaning procedures and can actually cause indoor air problems. For example, an inadequate vacuum collection system can release more dust, dirt, and other contaminants than if you had left the ducts alone. A careless or inadequately trained service provider can damage your ducts or heating and cooling system, possibly increasing your heating and air conditioning costs.

september special offer: 10% off all Austin Air Purifiers
Take 10% off all Austin Air Purifiers for 10 days only!
Simply type in the promotional code upon checkout:
AA92904
Valid for Austin Air Products & Austin Air Replacement Filters only. Valid thru October 10, 2004.
Feel free to share this with friends and family.
Valid for online orders only.
Clean the air in your home with America's highest rated air purifier!

In an independent test of 21 air purifiers, Austin Air was rated best.

A combination of true surgical HEPA cloth and activated carbon / zeolite compound will remove dust, mold spores, animal dander and pollen.

All Austin Air products are designed for safe, quiet, continuous operation.

5-year warranty fan and motor warranty.

5-year pro-rated filter guarantee under normal residential use.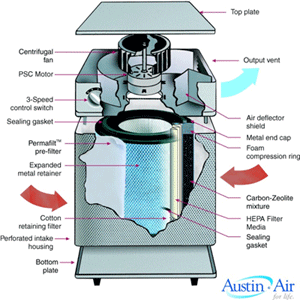 Read More & Compare the Austin Air Purifier Line
Read Real Austin Air Purifier Consumer Reviews
Dust Mite Bedding Packages Healthy Mattresses HEPA Air Purifiers Replacement Filters Anti-Allergen Encasings Dust Mite Control Healthy Pillows Comforters and Blankets Furnace Filters Nasal Irrigation Humidity Control HEPA Vacuums Personal Care Products Pet Products Asthma Management Dusting Products Face Masks Just for Kids Allergy Accessories
free shipping on all Austin Air Purifiers
Plus, we offer free shipping on all orders over $150.
forward the achoo! review to a friend

Want to share the achoo! review with friends and family members? Click here and type in the email
addresses of those you want to share the achoo! review with and we will happily include them.

Is there something you would like to see featured in a future edition of the achoo! review?
Click here to share your ideas and questions with us. We appreciate your feedback.

This e-mail newsletter was sent to you because you are a customer, you requested pricing information from us, you signed up for a free give away or you are a friend of the company.

You are subscribed to the achoo! review as:

If you do not wish to receive the achoo! review in the future, please reply to this e-mail and type the word "REMOVE" in the subject line. Or click here to unsubscribe. Please reference the above email address when replying.

You may also contact us offline at:
achoo! ALLERGY & AIR Products, Inc.
Customer Service
3872 Roswell RD
Atlanta, GA 30342
1-800-339-7123

Privacy Policy
For details on our e-mail practices, please visit the achooallergy.com privacy policy. We will never rent, sell, or share your email address.

Copyright © 2004. achoo! ALLERGY & AIR Products. All Rights Reserved.