Steam cleaning is an easy way to protect your family and home from germs, viruses and allergens. Using only water and heat, vapor steam cleaners and floor steam mops provide a deep clean that sanitizes without the use of harmful chemicals. From the highly effective Ladybug steam cleaners and versatile Reliable models to the popular Vapamore steam cleaner to the economical Soniclean floor steam mops, we are sure there is a vapor steam cleaner that can give your home the healthier kind of clean that you deserve.
Filter Results
Category

Price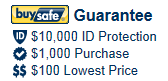 More Information On Vapor Steam Cleaners
How Steam Cleaners Make Your Home Healthier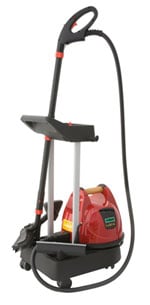 Steam Cleaners are a simple yet highly effective way to clean and sanitize throughout the home. By using only water and heat, vapor steam cleaners are a healthier way to clean without the worry of noxious fumes or residue left by common chemicals cleaners. Without the need for a variety of cleaners, steam cleaning is a universal solution to deep cleaning and eliminating allergens and microorganisms. Multi-purpose and durable, a quality steam cleaner can help you save time and money, while making your work or home healthier for the entire family.

Basically, all steam cleaners work on the same principles developed decades ago in Italy. Simple tap water is heated in an internal boiler to temperatures that generally range from 200& to 300& F. This steam vapor is pressured to help keep the actual moisture content of the steam low. The steam is then pushed out of the steam cleaner or steam mop directly onto the surface you are cleaning. Special attachments are used for different applications and bonnets or towels (terry cloths or microfiber) are used in conjunction with the tool to help trap the steam, concentrating the heat, as well as capture debris or particles loosened by the heat and steam.

Steam cleaners are particularly helpful for allergy, asthma, and MCS sufferers for several reasons. First, steam cleaners use no chemicals. So unlike ammonia or bleach based cleaners, there are no harmful or poisonous residues left after cleaning. The lack of chemicals also improves your indoor air quality by keeping those fumes out of the air you breathe.

Second, steam cleaners kill many common allergens. Not only does the high temperature steam kill a wide variety of molds and bacteria, but things like bed bugs, fleas, and dust mites are killed on contact. Regularly steaming your mattress or upholstered furniture is an easy way to quickly kill dust mites. Adding to this, vapor steam cleaners can kill viruses, and some are capable of destroying things like MRSA, the common flu virus, as well as, bacteria like listeria, E. coli, and salmonella.

Lastly, even chemicals left behind from previous cleanings can be removed by using a steam cleaner. Overall, high temperature steam vapor cleans deeper, by penetrating the pores of even hard surfaces, and sanitizes better than chemical cleaners. High temperature steam is deadly to microorganisms while the heat loosens and pulls soil and debris from microscopic pores and cracks to give you a more thorough, healthier clean.
---
Our Steam Cleaners - At A Glance
Of the four brands of vapor steam cleaners we offer, Ladybug steam cleaners are some of the most versatile and well-respected models available. Not only are they the choice of numerous professional cleaning businesses, but they are most often the choice of consumers who are serious about steam cleaning and want to invest in a durable, professional grade steam cleaner.

Manufactured in Italy, Ladybug steam cleaners are the only model that offers the TANCS system. TANCS is a antimicrobial system that uses the minerals naturally found in water to weaken the cell walls of microorganisms, making them more susceptible to lethal effects of heat. This disinfecting system is the only EPA tested and certified system that is truly capable of disinfecting WITHOUT the use of chemicals. The TANCS system is optional in the Ladybug XL2300 and Ladybug 2200S, standard in the Ladybug Tekno 2350, but it is not available with the Ladybug 2150.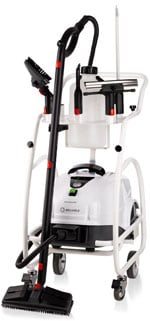 With a step down in price but no loss of versatility, Reliable steam cleaners have an array of models to fit most budgets while meeting your cleaning and sanitizing needs. Each model delivers high temperature steam and comes with an excellent warranty and range of accessories. For quick or small jobs, any of the Reliable floor steam mops and the Reliable Pronto handheld are small, compact and will do the job. You can store them in your kitchen pantry for quick access and clean up duty.

One of the more recent additions to the growing field of steam cleaners is the Vapamore steam cleaner. This bright yellow, canister model steam cleaner has quickly gained popularity and is endorsed by the "Queen of Clean". Affordable and compact, the Vapamore steam cleaner is a great model for someone who is new to steam cleaning or wants a home sanitizer ready for use anywhere around the home. With a great warranty and easy to use attachments, the Vapamore is a great all-around steam cleaner.

That last model we offer is the Soniclean Steam Mop. As the most affordable steam cleaner we offer, this 2-in-1 model combines a floor mop with an easy to use handheld steamer. Being a steam mop, the Soniclean 2-in-1 is lighter and easier to handle. The Soniclean steamer uses a "flash" heating technology similar to that used in tank less water heaters. This eliminates the need for an internal boiler system and delivers steam quicker than any other model--steam in less than one minute! A variety of attachments compliment this model and make it an economical choice for those new to steam cleaner or for those with smaller houses or apartments.

Take some time to compare steam cleaners and contrast the variety of steam cleaners we have available. We offer a variety of resources from a steam cleaning buying guide to a section dedicated to steam cleaner FAQ's. Regardless of what model of steam cleaner you choose, you will enjoy a simple way to bring a healthier kind of clean to your home and your family.