R-P Natural Organic Latex Quilt-Top Mattress
R-P Natural Organic Latex Quilt-Top Mattress
The Royal-Pedic Natural Organic Latex Quilt-Top Mattress features a natural 1 zone Talalay latex core wrapped in hand-tufted organic cotton. The naturally colored, 100% organic Peruvian cotton is grown without pesticides or chemical fertilizers, and the mattress is custom built without formaldehyde, glues, dyes, resins, polyurethane foam, or synthetic latex. If you are sensitive to petrochemical emissions from chemically treated fibers, this mattress is ideal for you. The natural latex core makes the mattress very supple. Pressure relaxation channels provide flexibility, pressure point relief, and proper spinal alignment for side sleepers. The all natural latex core is contained in a soft, breathable organic cotton covering. Overall, this custom mattress is one of the softest offered by Royal-Pedic. The mattress is quilted on the surface with layers of chemical free French wool to provide an all natural fire barrier.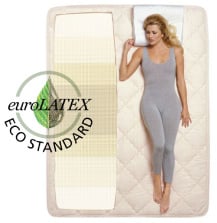 Product Features
Mattress thickness

: 7" Standard / 8" for the 7 Zone Upgrade.

Firmness rating

: 4 which means plush (1 is the most firm).
Comes standard with the Royal-Pedic

1 Zone all natural Talalaty latex Core

- the natural latex is naturally hypoallergenic, antibacterial, and resistant to dust mites. The natural latex is certified healthy and ecologically friendly by the EuroLatex standard. The lack of an innerspring system means that side by side sleepers can rest in motionless comfort.

Organic Cotton Quilt-Top Comfort

- The quilt-top layer of the mattress is composed of natural latex, hypoallergenic polyester comfort fill, and untreated New Zealand lamb's wool encased in Belgian cotton ticking. The 100% untreated New Zealand lamb's wool acts as a natural barrier to dust mites, thanks to a substance in wool known as lanolin. The wool is also naturally flame resistant, hypoallergenic, and free of chemicals, bleaches, and dyes.

Best Choice for the Adjustable bed option

- the latex flexes with the bending of the adjustable bed like no other mattress construction.

Best Choice for Platform Bed option

- even on the firm platform, the latex allows the mattress to adjust to the natural curves of your body.

7 Zone Blend Upgrade

- this option is available.

7 Zone Natural Latex Core Upgrade

- this option is available.
Product Reviews
Write A Review
Superb product, superb service
Reviewed by: Parents of Pre-teen with Asthma from Waccabuc, New York


Our daughter has been wanting to move from her very firm Shifman mattress for a long time. We bought a 2-inch thick piece of foam rubber as a topper to soften the surface but it gave off a terrible odor. For her twelfth birthday we bought an inexpensive platform and indulged in a full-size Royal-Pedic Latex Organic Mattress no box spring for her. She sleeps like Goldilocks now in a bed that's not too hard, not too soft, but just right. She loves it. We love it. The mattress is perfect. And I rest assured that the bed's not giving off toxic fumes to exacerbate her asthma. The delivery people were gracious, the white glove service top rate. Thank you!

This mattress is HEAVEN on earth
Reviewed by: Sleeping Beauty from San Antonio, TX


I've never reviewed a product, but felt compelled to now! We had a 15 year old Serta pillow top which has served us well. Now, 8 months pregnant with our first child, decided it was finally time to purchase a good quality mattress. Have done significant research and the Royal Pedic really is the best. Firm, but not too firm. I haven't slept this good in years! And it's great knowing it's not contaminated with chemicals. Only thing I didn't factor into my research is that this mattress is very thin--like in the olden days when pillow top didn't exist. We have a modern, asian type of bed and with the old pillow top mattress we didn't need a box spring. When the new arrived we were almost sitting on the floor it was so low! So if you didn't use a box spring before, make sure you order it with this mattress! This was only a minor set back and not the fault of the manufacturer. The delivery guys were saying this is "the mattress of the stars." They had delivered one to a Spurs player in the last week and several Tejano singers over time. I can see why the stars would buy this...it's heaven on earth!

Customer Q & A
Ask a Question
Do you have a question about this product? Ask a Product Expert! The answer will be emailed to you and posted for the benefit of other shoppers.



R-P Natural Organic Latex Quilt-Top Mattress

Sleep for a few nights on the R-P Natural Organic Latex Quilt-Top Mattress from Royal-Pedic, and you will feel like you've spent a week at a spa. It's the most luxurious, therapeutic sleeping experience I have ever had. I'm left wondering if I even deserve such a treat. For those who have a chemical sensitivity or want to support the organic cotton farming movement—you will not find another company that marries both comfort and organic textiles more elegantly!

This mattress combines hypoallergenic latex with organic cotton to produce the most luxurious and comfortable anti-allergen mattress. Latex is very supportive for a pain free sleep while being completely resistant to dust mites, mold, and mildew. The organic cotton mattress covering and ticking is completely chemical-free.



What I like about R-P Natural Organic Latex Quilt-Top Mattress
Hypoallergenic and supportive sleep
10 year warranty
Unsurpassed quality and craftsmanship
Organic Cotton is chemical-free and does not harm environment.
One of the most plush mattresses offered by Royal-Pedic
Ideal for side sleepers
What I did not like about R-P Natural Organic Latex Quilt-Top Mattress
Would not be suitable for people with latex allergies.
While for some the cost may seem to be too much, for those who have reactions to toxins found in common mattress or those who simply prioritize a restful sleep on quality bedding, the R-P Natural Organic Latex mattress provides the best that money can buy.


Additional Resources
Royal-Pedic Mattress Sizing Information
Compare Royal-Pedic Mattresses
Royal-Pedic Mattress Buying Guide
Royal-Pedic FAQ
Royal-Pedic Company History
Royal-Pedic Craftsmanship and Delivery
Warranty Information
Royal-Pedic Mattress Manufacturing, LLC warranties its mattresses and box springs to the original consumer purchaser for a non pro-rated period of ten years from the date of purchase against material defects and workmanship.


Availability