For over 35 years Santa Fe dehumidifiers have protected homes and families across the country. "Made in America", these rugged and durable machines keep your humidity in a healthy 40%-50% range, while saving you money on your yearly power bill. Convenient features, flexible installation options and accessories, as well as an industry leading warranty are all reasons why people consistently choose Santa Fe as the way to keep their home healthy and free of mold, pests and excess moisture. Take control today with a Santa Fe basement and crawl space dehumidifier! Santa Fe dehumidifiers ship free via LTL Freight except for the Santa Fe Compact70 which ships free via UPS Ground. Shop our wide selection of Santa Fe dehumidifiers and Santa Fe dehumidifier filters and accessories below.
Call or Chat Now with our Product Experts for Special Offers and Volume Pricing!
Filter Results
Category

Price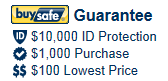 More Information On Santa Fe Dehumidifiers
The Santa Fe Dehumidifier Difference
Controlling the humidity levels in your home is key to not only protecting home but also keeping your family healthy. Excess humidity and moisture in crawlspaces and basements is the leading culprit of mold and insects in most homes, and for people with allergies or asthma, these things can make a difficult condition even worse.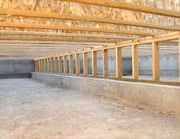 There are a few great reasons why people consistently choose a Santa Fe dehumidifier to solve their home humidity and moisture control problems. Here are the top five reasons why home and business owners choose Santa Fe dehumidifiers over other brands.
Effective & Efficient - Santa Fe dehumidifiers can remove literally gallons and gallons of moisture from your basement or crawlspace, every single day. The are sized to fit just about any space, and one of the best parts about any Santa Fe dehumidifier? They are all Energy Star qualified. Each Santa Fe meets, or exceeds Energy Star requirements. The Impact XT actually surpasses energy requirements by 50%! Over the life of the machine, these crawlspace and basement dehumidifiers can save you hundreds of dollars each year in operating expenses.

Durable - Each Santa Fe home dehumidifier is constructed from steel. This not only makes these units less averse to the effects of temperature swings, but lends a great deal of rugged durability. This is ideal considering most crawlspaces and basements often have less hospitable conditions than any other space in your home. Most models offer a reasonable lifespan of 10-15 years or more.

Versatility & Options - Some Santa Fe dehumidifiers give you the option of choosing where you want the warm air exhaust to exit the machine or have casters, but all of them offer a range accessories to give you the flexibility of a custom installation. Casters, condensate pumps, and ducting kits are available for each model. And when choosing your dehumidifier, you will see that the models step up from 70 pint capacity for 1800 sq. ft. all the way to 155 pint capacity for up to 3600 sq. ft. There is even the Rx model, with an internal condensate pump and extremely quiet operation was built specifically for use in living spaces. These work together to give you the range of choice to select just the right dehumidifier for your specific needs.

Ease of Use - When it all comes down to it, installing and using a Santa Fe basement and crawl space dehumidifier is incredibly easy. Level, run your drain line, set your humidity level and away you go! Maintenance consists of replacing the air filter (and washing the prefilter, if equipped), and that's really all there is to it.

Made In USA - For over 35 years, Therma-Stor has been designing and manufacturing high quality restoration and dehumidifying products in Madison, Wisconsin. With so much of American manufacturing being done overseas, it is no small thing that Therma-Stor has continued to keep their headquarters and manufacturing here in the U.S.
---
Santa Fe Dehumidifiers & Therma-Stor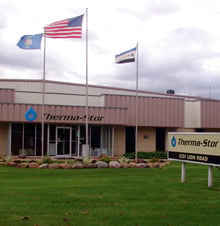 Santa Fe home dehumidifiers are manufactured right here in the United States by Therma-Stor. Since 1977, Therma-Stor has been manufacturing complete lines of residential and commercial dehumidifiers as well as heat recovery water heaters, air scrubbers, and other home restoration equipment.
Therma-Stor brands include the very popular, free-standing line of Santa Fe dehumidifiers, whole home Ultra-Aire dehumidifiers, HI-E Dry and Phoenix commercial/restoration equipment. When the worst hits your home or office, Therma-Stor has the brands and products to restore your space to its original condition.