Stadler Form Albert Dehumidifier
Item #: SM0017

OUT OF STOCK
Stadler Form Albert Dehumidifier
For your home or office, spring and summer humidity can make even air conditioned rooms feel sticky, and modern HVAC units are simply not built to cool and remove the excess moisture that can lead to mold growth. So what do you do? Most people opt for a room dehumidifier, and while they work at removing excess humidity, these are often bulky, heavy and loud. The Stadler Form Albert dehumidifier eliminates each of these problems while keeping your home of office comfortable and free of excess moisture. The Albert is a refrigerant style dehumidifier, but you would never guess it by how quietly it operates! An easy-to-read LED screen gives you accurate humidity readings in the room and allows you to set a timer, adjust the desired humidity, set your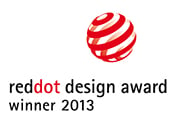 fan speed, and even dim the display for use at night. Oscillating louvers keep air circulating around the room more efficiently, and two water removal options provide flexibility. Lightweight, the Albert has a set of integrated casters that makes moving it from room to room easy and simple.

There are a lot of room dehumidifiers available today, but despite the choices available, there is only one Stadler Form Albert dehumidifier. Treat yourself to award winning design and an array of practical and convenient features, all while keeping your home healthy!
Features
Removes 43 pints per day

, (@ 60% RH, 80° F)

AAA Energy Efficiency Rating

, only dehumidifier in class with this Swiss energy efficiency rating

Ultra Quiet

, of traditional refrigerant dehumidifiers, the Stadler Form Albert is the quietest of any large to mid-size model available

Two Drain Options

- Bucket w/ Collapsible Handle or Use 7'+ included hose to direct drain
Easy to Read

LED Display

with built-in

Humidity Gauge & Digital Humidistat

3 Fan Speeds

Auto Restart

Auto Defrost

Bucket Full Indicator Light and

Auto Shutoff

Fan/Blower can be set to continuous (to constantly cycle the air in your space)
Sleep Mode - w/ Dimmed Control Panel

24 Hour Timer

25% lighter than comparable models

and casters for easy mobility

Louvers with Swing function

, oscillate to evenly distribute dried air

Auto Restart

Feature will automatically restart at the original setting after a power outage
1 Year Warranty
---
Stadler Form Albert Dehumidifier - A Closer Look

Digital Display w/ Humidity Readout

Easy-to-Use Rotary Dial to Adjust Humidity

Convenient Bucket W/ Collapsible Handle

Direct Drain Option w/ Included Hose
---
Great looking and SO quiet!

I got this as a gift from my father to use in our finished basement. We spent a fortune decorating down there, and I knew we wouldn't be able to enjoy it with a loud, ugly dehumidifier. The Albert is so quiet, we hardly notice it! We can watch movies, play pool, or just hang out without being distracted. The programmable features and auto shutoff also fit in with our busy lifestyle. I don't need to rush home on a Saturday to make sure it's working or make sure that it hasn't overflowed.

Perfect!

I use this dehumidifier in my garage. I do lots of work in my garage and it is always so humid, not anymore. This unit has been great! Very quiet, you can_t even tell its running. The size of a small trash can so it doesn_t get in your way. Very sleek looking dehumidifier that has really proved its value.
---


Stadler Form Albert Dehumidifier

Stadler Form broke several molds when they made the Albert dehumidifier. Not only did they come up with an award winning design, but they managed to incorporate style and luxury into a home appliance rarely associated with either of these things! Lightweight and built for medium to large rooms in your home or office, the Stadler Form Albert can remove 43 pints of moisture per day, quietly and effectively. With a bevy of useful and intelligently designed features, let's take a look at the Albert and what makes this room dehumidifier so special.

What I like about the Stadler Form Albert Room Dehumidifier

Quiet Operation - One of the most common complaints about room dehumidifiers is the noise. If you have moisture problems in the living spaces of your home or office, traditional room dehumidifiers can add a significant amount of noise. A high CFM can help circulate air better, through larger spaces, but often creates enough noise that running these dehumidifiers on high is as if someone was practicing the piano in the room next to you. This kind of noise makes it nearly impossible to run on high at night while you sleep, while watching TV or trying to work. The Albert is different. On low it is literally whisper quiet, and even at its HIGHEST fan setting, it creates LESS noise than comparable models on their LOWEST speed. The Albert dehumidifier can run during the day and through the night without disturbing even light sleepers.

Modern Controls & Contemporary Visual Appeal - As soon as the turn the Albert on, you will likely be drawn to the LED display. As the control center for this unit, you can set things like the fan speed, desired humidity level, or a 24 hour timer. If you simply need the dehumidifier to get the room as dry as possible, set it to continuous operation. You can even set the louvers to stay in a fixed position or oscillate for more even airflow throughout the room. The display is easy to read, and night time isn't a problem with a sleep mode that dims the display for light sensitive sleepers. Use the dial on the right to adjust your settings, and a small array of indicator lights let you know when the tank is full, if Albert is defrosting and what your fan speed is. The controls are intuitive, extremely user friendly, and blend in well with the modern look and overall feel of the Albert. The black and white color scheme with the smooth lines and digital controls all come together to a very contemporary aesthetic.

Energy Efficiency - With a lower CFM fan, the Albert room dehumidifier consumes about 1/3 less power than comparable 45 pint dehumidifiers. While this model has not been submitted for Energy Star qualification yet, the Albert has been rated "AAA", best in its class of dehumidifiers, when independently tested a the University of Lucerne against other dehumidifier models. This mean substantial savings in your power bill throughout the course of dehumidifier, and even more if you need to operate a dehumidifier throughout the year.

Lightweight & Mobile - At 35lbs. the Albert is lighter than most comparable 45 pint dehumidifier models. And though the design of this dehumidifier makes it appear is if it sits on a stylish pedestal, the reality is there are caster conveniently hidden underneath the unit. These two things combine to make the Albert very easy to move from room to room.

Water Drainage Options - Most room dehumidifiers come standard with a water bucket to collect the condensate that is being removed from the air, and the Albert is no exception. Located on the right side, the buckets tucks away until full, then when you remove it, the collapsible handle springs up and a splashguard helps to prevent spilling it. Lift the splashguard and provide some water for your favorite potted plants! If you are looking for an easier route that does not involve emptying a bucket, use the seven feet of supplied hose to port the Albert. Remove the water tank, then reach into the space where the tank sits to find a small, spring-loaded, rubber stopper. Open it to provide access to the metal drain tube. Then run the hose through the back of the unit and firmly affix it to the metal drain tube. Lastly, run the hose to your nearest floor drain or into a condensate pump. Do this and you'll never have to worry about emptying a bucket again!

Style and Design - Though you may need a functional home appliance most people prefer ones that blend into the decor of their home or the room. The Stadler Form Albert does this and more. With contemporary appeal, smooth lines and crisp features, the Albert fits right in with modern decor. The LED display and louvers that hide flush with the top create a seamless, sophisticated appearance that is simply not found in other home dehumidifiers. This visual appeal and design is what made the Albert dehumidifier a Red Dot Design Award winner in 2013. The Red Dot Design Award is an international product design award that receives thousands of product entries from over 50 countries annually.

What I did not like about the Stadler Form Albert Room Dehumidifier

Despite all of the positives, there are two drawbacks that I notice with the Albert. First, I wish the capacity was higher. Granted, this would likely increase, the noise, weight and power consumption, but it would also make it better suited for very large spaces. As it stands, place it within the confines of its effective range, 650 sq. ft., and you will have no problems controlling moisture.

Secondly, I do wish the warranty was longer. For a rather expensive, luxury home dehumidifier, I would have expected a two or three year warranty instead of the single year that comes standard with the Stadler Form Albert dehumidifier.

In all, if you need a dehumidifier to keep your indoor humidity level in check but want a luxury home appliance that looks and feels right at home in a modern, contemporary home, the Stadler Form Albert dehumidifier is the right model for you. With unmatched design and features, whisper-quiet operation and versatile water removal options, the Albert is the ideal way to keep your home or office healthier without sacrificing looks and style or adding additional noise.
---
Product Questions
Anyone knows how to set the clock on Albert? I press the SET button only works for setting the timer. Thanks
Stadler Form Albert Dehumidifier Specifications
| | |
| --- | --- |
| Recommended For: | Living spaces / Offices |
| Model Number: | D-001 |
| Coverage: | 650 Sq. Ft. |
| Water Removal: | 43 pts. per day @ 60% RH, 80° F |
| Dimensions: | 13.6" W x 25.9" H x 9.9" L |
| Weight: | 35 lbs. |
| Power Supply: | 120v, 390W, 3.5A |
| CFM Rating: | 60-86 CFM |
| Noise: | 33-44 dBa |
| Auto Defrost: | Yes |
| Auto Restart: | Yes |
| Effective Operating Range: | From 56° F - 95° F (will operate as low as 41° F) |
| Air Filter: | Washable Prefilter |
| Drain: | 1.1 Gal Tank & 7.5' of 3/8"(ID) Hose for Porting/Direct Drain Option |
| Casters: | Yes |
| Condensate Pump: | No |
| Warranty: | 1 Year Parts and Labor |
---
Stadler Form Albert Dehumidifier Additional Resources
Stadler Form Albert Dehumidifier User Manual

---