Vanicream Skin Creams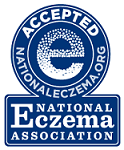 Vanicream skin cream is recommended by dermatologists for people with sensitive skin. Both gentle and effective, Vanicream hypoallergenic skin cream provides long-lasting skin hydration without a greasy after feel. Easy-to-use, this hypoallergenic moisturizer is non-comedogenic and non-staining. Contains NO perfume, lanolin, dyes, formaldehyde, or parabens. A perfectly hypoallergenic lotion, Vanicream moisturizing skin cream for sensitive skin will leave your dry skin feeling soft and silky without any irritation.
---
Vanicream Skin Creams - Ingredients
Purified Water, White Petrolatum, Sorbitol Solution, Cetearyl Alcohol, Propylene Glycol, Ceteareth-20, Simethicone, Glyceryl Monostearate, Polyethylene Glycol Monostearate, Sorbic Acid and BHT
---
Awesome for eczema

Perfect daily lotion for those with skin itches. Cream soaks in and "seals" off. Really helpful.

Fabulous!

I love this stuff. Unscented, does not clog my pores, keeps me moisturized in a non-oily residue free way. I got the tube, and it's lasting forever. Need to get more in the future.

Hydrated

My skin feels extremely better using this lotion. It's probably better for those who have EXTREMELY dry and flaky skin. It's very thick so I dilute it a little with water. But it's great. It doesn't burn and it doesn't cause my skin to flare in red bumps or anything. I use it on my face too. Other lotions would even cause my face to swell. I haven't been swollen at all since I have been using this one.

Smooth Skin

This is exactly what my little girl's Dr. ordered. My little girl likes it because it is absorbed quickly and is not greasy. It has already improved her dry skin.

Amazing

My dermatologist recommended this product because I have so many allergies to so many cosmetic products. I have been using it for two weeks and it is wonderful and has softened my skin without the worry of breaking into a rash or uncontrollable itching. I also purchased some for my 3 year old grandson who has super sensitive skin also. I recommend this to everyone, even those without allergies.

Best Skin Cream

Vanicream is the only lotion I use. I have normal to dry skin that is very sensitive, I use Vanicream everyday. It is best to apply this lotion while your skin is damp from your shower or bath, otherwise it is too thick. I use it on my elbows, knees, and feet anytime they are extra dry without being damp, just takes a little longer to rub in. My daughter uses Vanicream on her two year old little boy who has very sensitive skin, and Eczema. In over a year there has not been a single issue.

vanicream skin cream

I use this cream for my atopic dermatitis. I need to apply this at least 10 times daily. It helps to moisturize my skin. I buy this size for home use.

fantastic

After years, and years of severe allergies to so many products, I finally found a light lotion for my face and a heavier one for my hands. It has been a life saver.

great item

I found out I am allergic to sulfa medication. My face and body broke out in hives. I needed something to put on my face that didn't burn. I could not wait until this arrived in the mail. I put it immediately on my face and it was terrific, no burning and it has moisture. My face was so dry, like a bad sunburn. It was the best thing I ever purchased. I use it everyday now. Thank you so very very much.

helpful for cracked skin

This is very thick and gooey, however it does help severly dry skin.
---

Vanicream Skin Cream

I tend to have dry hands, so I like to use a hand cream several times a day, especially after washing my hands. I have started using Vanicream and have really like the results. It is a thicker cream, but after you rub it in, it absorbs quickly and leaves your skin feeling soft and moisturized for much longer than traditional lotions. It lasts a long time so I usually only have to reapply after washing my hands. Ideal for people with sensitive skin or eczema, Vanicream's skin cream is a great way to moisturize without the chemical additives and fragrance used in comparable moisturizers.
What I like about Vanicream Skin Cream
Very moisturizing
Absorbs into skin without a greasy feeling
Great on hands, elbows, feet, or other severely dry skin areas
No harmful chemicals or dyes to irritate sensitive skin
Approved by the National Eczema Association - meaning that Vanicream Skin Cream has been evaluated to determine that it does not contain ingredients or contents that are known to be unsuitable for use by persons with eczema or sensitive skin conditions
Because it is thick, each tub lasts a long time
Two convenient sizes - a tub with pump for use at home, and a convenient tube, perfect for your purse, desk drawer, or in the car
What I don't like about Vanicream Skin Cream
No fragrance (I prefer a lightly fragranced cream though for many the lack of any odor is ideal.)
A little too thick for me to use as an everyday body cream. I have noticed though, if you moisten your hands (or leave them fairly damp after washing) then put a small amount of the skin cream on them, you can really make a little go a long ways. This reduces the thickens and makes it easier to spread.
In summary, Vanicream is a great skin cream. It moisturizes and keeps you skin feeling softer for a long time. For those with sensitive skin it's the ideal way to soothe dry skin without irritating it with harsh chemicals, dyes or fragrances. It contains no perfume, lanolin, dye, formaldehyde, or parabens so it is very gentle. Personally, I like to use Vanicream for my hands, feet, elbows, and other areas with dry skin. Because it is a thicker cream, I don't really like to use it as a body cream, but for someone with dry or sensitive skin it would be an excellent choice for a body cream as well.


---
Product Questions
I have rosacea and have red irritated skin with burning sensation. Will this cream be ok to use
I have very senitive skin and started using Vanicream lotion because it contains no formaldhyde , which I am allergic to. Does your Vanicream Vaniply ointment contain formaldhyde? What other products do you manufacture that does not contain formalddhyde? Thank you
---