In the quest for a home with comprehensively clean air, putting air purifiers in every room can get expensive.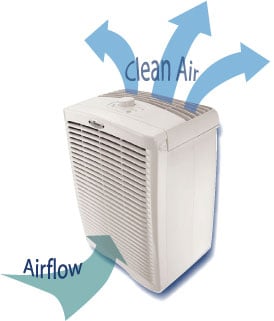 The Whirlpool Whispure is the perfect compliment to the more comprehensive HEPA air cleaners mentioned. Although its capacity for removing odors is limited due to the small amount of charcoal in the pre-filter, the Whirlpool Whispure is one of the true-HEPA air purifiers capturing 99.97% of airborne dust, pollen, mold, dander and other allergens.
With the ability to clean up to 500 square feet, the Whirlpool Whispure is ideal for a small room such as a bedroom or an office. It is designed to fit unobtrusively in a small room, even against a wall, because the front of the unit serves as the air intake while the top of the unit provides the outflow of clean air.
It is especially important for air purifiers used in small rooms to operate quietly, and the Whispure lives up to its name. In a normal home environment without tobacco smoke or a lot of pets, the HEPA filter in the Whirlpool Whispure will typically last a year. Filter change lights indicate when it is time to change the charcoal pre-filter and the HEPA filter, an unusual benefit for one of the lower cost air purifiers on the market. The charcoal pre-filter should be changed about every three months.